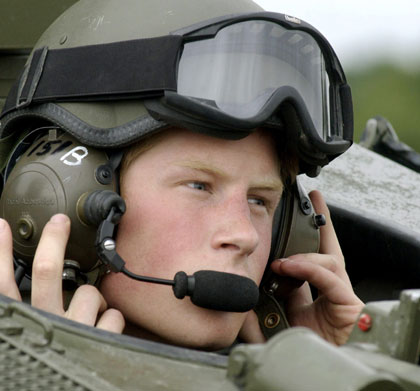 An undated file handout photograph from Britain's Ministry of Defence, released February 22, 2007, shows Britain's Prince Harry undergoing instruction in a Spartan armoured vehicle, part of his Driver and Maintenance training at the Armoured Fighting Vehicle (AFV) Driving and Maintenance School at Bovington in Dorset, south west England. Britain's Prince Harry, who is third in line to the British throne, is being deployed to Iraq, the Ministry of Defence (MOD) said on Thursday. [Reuters]


LONDON - Prince Harry, the third-in-line to the British throne, will be deployed to Iraq, the Ministry of Defense said Thursday.

His regiment, the Blues and Royals, is expected to deploy to Iraq this spring, and he could become the first royal to see combat since his uncle, Prince Andrew, served in the Falklands war against Argentina in 1982.
Special coverage:
Violence continues in Iraq

Related readings:
Cheney: US wants to leave Iraq with honour
House reject Bush's Iraq troop plan
Clinton: US out of Iraq by January '09
US general speaks bluntly of task
US adjusts Iraq tactics after copters downed
Australia wants its troops out of Iraq
South Korea to pull 650 troops from Iraq
Harry -- a second lieutenant -- has expressed his desire to serve alongside his comrades in Iraq, saying that there was "no way" he was going to undergo rigorous training and then stay away from the battlefield. He graduated last year from Royal Military Academy at Sandhurst.

Britain's Ministry of Defense has previously said that Harry could be kept out of situations where his presence could jeopardize his comrades.

The 22-year-old prince, known as Troop Commander Wales by his regiment, has trained to command 11 soldiers and four Scimitar tanks.

But the deployment of Second Lieutenant Wales may be a major security headache for military leaders as the prince could be a target for insurgents and a magnet for suicide bombers.

Harry had reportedly threatened to quit the army if not allowed to serve on the frontline. He has trained to become troop commander of an armoured reconnaissance unit.

In joining the military, Harry followed a royal tradition: his father, Prince Charles, was a pilot with the Royal Air Force and Royal Navy, and a ship commander, and Harry's grandfather, Prince Philip, had a distinguished career in the Royal Navy during World War II.

On Wednesday, Prime Minister Tony Blair announced that Britain would be reducing its commitment in Iraq, withdrawing 1,600 soldiers in the next few months.