VIENNA - Iran brushed off threats intended to make it freeze its nuclear program as a U.N. deadline to do so fell due on Wednesday, but offered to guarantee it would not seek atomic weapons.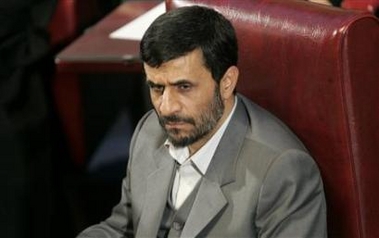 Iranian President Mahmoud Ahmadinejad attends the opening ceremony of the Assembly of Experts at the Old Iranian parliament in Tehran February 20, 2007. [Reuters]
Iran, defiant as a 60-day grace period it had been given to stop enriching uranium for nuclear fuel ran out, again vowed it would not halt its nuclear activities as a precondition for talks on trade benefits offered by six world powers.
The U.N. Security Council, which in December banned transfers of technology and expertise to Tehran's nuclear program, may consider broader sanctions if Tehran, as expected, does not freeze enrichment work by February 21.
The West suspects Tehran is conducting an atomic weapons project disguised as a bid to produce peaceful atomic energy.
"Maybe there are certain groups or countries willing to coerce Iran ... (but) Iran's nuclear dossier cannot be resolved through force and pressure," Iranian nuclear negotiator Ali Larijani said on Tuesday, alluding mainly to the United States, which has built up strike forces in the Gulf near Iran.
Iran says its program aims solely to generate electricity.
"If the other side expresses concerns about possible deviations of Iran's activities in the future, we have no objections to settling these concerns at the negotiating table," Larijani said after meeting the U.N. nuclear watchdog director.
"We would give the necessary assurances and guarantees (in negotiations) that there will be no deviation ever toward nuclear weapons (in Iran)," said Larijani, who Iranian officials said would go to Italy for talks on Wednesday.
"We are a country with no intentions to develop nuclear weapons. We want to work within the framework of the NPT (nuclear Non-Proliferation Treaty)."
He said he had "constructive" talks with International Atomic Energy Agency director Mohamed ElBaradei on ways of reviving talks with Western powers. But he offered no sign Iran was ready to compromise on the issue of suspension.
| | | |
| --- | --- | --- |
| 1 | 2 | |