LONDON - Prime Minister Tony Blair will announce on Wednesday a new timetable for the withdrawal of British troops from Iraq, with 1,500 to return home in several weeks, the BBC reported.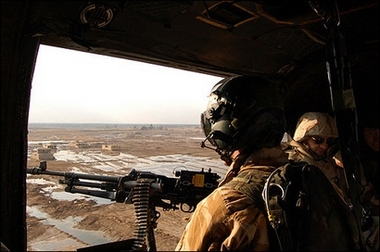 A British airman trains his machine gun out of the side door of a Royal Air Force helicopter ferrying troops and passengers into Baghdad, January 2007. British Prime Minister Tony Blair will announce on Wednesday that thousands of his country's troops are to begin withdrawing from Iraq in weeks, according to media reports confirmed by the White House.[AFP]
Blair will also tell the House of Commons during his regular weekly appearance before it that a total of about 3,000 British soldiers will have left southern Iraq by the end of 2007, if the security there is sufficient, the British Broadcasting Corp. said, quoting government officials who weren't further identified.
The BBC said Blair was not expected to say when the rest of Britain's forces would leave Iraq. Currently, Britain has about 7,100 soldiers there.
Britain has long been the most important coalition member in Iraq after the United States. But Blair knows the British public and politicians from his own Labour Party want the troops out as quickly as possible, and don't want to see Britain stick with the United States in Iraq for the long haul.
Militarily, a British withdrawal isn't likely to have much effect on the stepped-up US operation in Baghdad or the war with the Sunnis in Anbar province west of the Iraqi capital. However, Iraqi forces could have a tough time maintaining security in mostly Shiite southern Iraq, including Basra city.
Blair's Downing Street office refused to comment on the BBC report, which also said Blair would tell the Commons that if the situation worsens on the ground on Iraq, his new game plan could change.
The announcement comes even as President Bush implements an increase of 21,000 more troops for Iraq.
Blair and Bush talked by secure video link Tuesday morning, and Bush views Britain's troop cutbacks as "a sign of success" in Iraq, said US National Security Council spokesman Gordon Johndroe.
"The president is grateful for the support of the British Forces in the past and into the future," Johndroe said in Washington. "While the United Kingdom is maintaining a robust force in southern Iraq, we're pleased that conditions in Basra have improved sufficiently that they are able to transition more control to the Iraqis.
"The United States shares the same goal of turning responsibility over to the Iraqi Security Forces and reducing the number of American troops in Iraq," Johndroe said. "President Bush sees this as a sign of success and what is possible for us once we help the Iraqis deal with the sectarian violence in Baghdad."
"We want to bring our troops homes as well," Johndroe said. "It's the model we want to emulate, to turn over more responsibilities to Iraqis and bring our troops home. That's the goal and always has been."
Blair said Sunday that Washington had not put pressure on London to maintain its troop numbers.
As recently as late last month, Blair rejected opposition calls to withdrawal British troops by October, calling such a plan irresponsible.
"That would send the most disastrous signal to the people that we are fighting in Iraq. It's a policy that, whatever its superficial attractions may be, is actually deeply irresponsible," Blair said on Jan. 24 in the Commons.
Blair, who has said he will step down as prime minister by September after a decade in power, has seen his foreign-policy record overshadowed by his role as Bush's leading ally in the unpopular war.
Last month, Blair said he would report to lawmakers on his future strategy in Iraq following the completion of Operation Sinbad, a joint British and Iraqi mission targeting police corruption and militia influence in Basra. On Sunday, Blair told the BBC that the operation was completed.
Foreign Secretary Margaret Beckett said in January that Operation Sinbad offered the prospect of a "turning point for Iraq, hopefully in the near future."
Treasury chief Gordon Brown, who is likely to succeed Blair, has said he hoped several thousand British soldiers would be withdrawn by December.