JERUSALEM - The trilateral summit among U.S. Secretary of State Condoleezza Rice, Israeli Prime Minister Ehud Olmert and Palestinian Authority Chairman Mahmoud Abbas was concluded here Monday without anything substantial.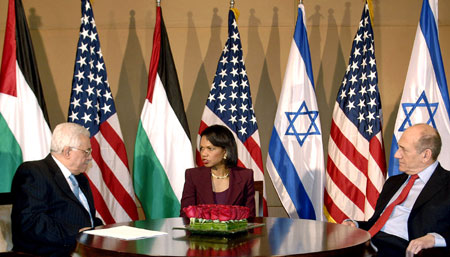 Palestinian President Mahmoud Abbas (L-R), U.S. Secretary of State Condoleezza Rice and Israel's Prime Minister Ehud Olmert meet in Jerusalem February 19, 2007, in this picture released by the U.S. Embassy. Israeli-Palestinian talks hosted by Rice ended on Monday with little sign of progress on reviving long-stalled peace negotiations beyond a vague promise to meet again. [Reuters]

Actually this result is not at all an unexpected surprise to all the parties in the summit and the public as well.
Israel maintained contacts with Abbas as regarding him as a moderate while boycotting the Hamas government. The trilateral summit, which was scheduled during Rice's previous visit to the region, was meant to restart the diplomatic process. But the unity government agreement reached between Fatah and Hamas in Mecca last week posed a dilemma for Israel.
Due to the complications following the Mecca Agreement, Rice lowered her expectations for the summit one day before it was held by saying: "What I would consider a success tomorrow is that we have gotten started." Israel even considered to cancel the proposed summit before it happened as it decided to reassess its relations with Abbas due to the Mecca agreement.
Under these circumstances, the summit seems doomed without substantiality though both Olmert and Abbas had some plans to talk something very substantial.
Olmert was planning to demand that Abbas obtain the release of captured Israel Defense Forces soldier Gilad Shalit from Palestinian militant groups, but had no intention of offering Abbas any goodwill gestures aimed at easing daily life for Palestinian civilians, such as those that followed the two men's meeting on Dec. 23, 2006.
Palestinian sources expected that the summit would raise three issues: implementation of the November 2005 crossings agreement, the transfer of collected taxes from Israel to Abu Mazen (Abbas)'s cabinet and the future of the peace process.
All the prepared topics were not mentioned in the statement Rice read to the press soon after the summit while she said that Abbas and Olmert affirmed the commitment to a two-state solution and agreed that a Palestinian state can not be born of violence and terror and agreed to meet again.
"Nothing substantial came out of the meeting because nothing substantial could come out of the meeting," said Yossi Klein Halevi, senior fellow in the Shalem Center's Institute for Zionist History and Thought.
Describing the summit as "an empty show" of the three parties in an interview with Xinhua, Halevi said: "all the parties have their own needs for the meeting: Abbas is trying to get foreign aids and Quartet's approval of lifting the sanctions. Olmert needs to show Israeli public that he is capable of diplomatic initiatives. Rice, who represent a country which is stuck in Iraq, wants to show some kind of movement and progress in Middle East peace process."
"Actually it is an empty show in the theater of negotiations," said Halevi, "Nobody in Israel, probably in Palestine, has any hope in these leaders and the negotiation."
According to local media, Olmert and Abbas also discussed a possible extension to a three-month-old cease-fire in the Gaza Strip to include the West Bank in the summit.
In an interview with Xinhua, Eran Laman, an Israeli expert in Middle East politics, said that he still believed the summit would be helpful to limit the Israeli-Palestinian conflicts though it had not made any breakthrough