SHAHJOI, Afghanistan - After radioing in an unexplained loss of power and engine failure, a military helicopter crashed early Sunday in southeastern Afghanistan, killing eight US service members. Fourteen survived with injuries.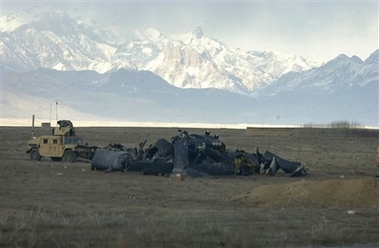 A US military humvee guards the scene of a US helicopter crash in the Shahjoi district of Zabul province in southeastern Afghanistan on Sunday Feb. 18, 2007. [AP]


Officials immediately ruled out enemy fire as a cause of the crash, which left charred wreckage of the twin-rotor Chinook scattered on a dusty, open plain in Zabul province, just 50 yards from the main Kabul-Kandahar highway.

There were no immediate claims of responsibility for any attack on the chopper, which went down under overcast skies in a region where Taliban militants are active.

It was the deadliest single incident this year for the 47,000 US-led coalition and NATO forces in Afghanistan.

The helicopter was carrying 22 US service members when it had a "sudden, unexplained loss of power and control and crashed," US military spokesman Lt. Col. David Accetta told The Associated Press, adding the cause would be investigated.

"It was not enemy-fire related," said Col. Tom Collins, spokesman for NATO's International Security Assistance Force. "The pilot was able to radio in that he was having engine problems. We're confident it was not due to enemy action."

Seven US Humvees and three Afghan military vehicles parked around the crash site. About 35 American soldiers and 15 Afghan army soldiers blocked reporters from entering the area. Afghan troops searched every passing vehicle and their passengers.

Zabul provincial Gov. Dilber Jan Arman said it was possible that the helicopter crash was due to bad weather.

The military relies heavily on helicopters for transport and operations because of Afghanistan's forbidding terrain and lack of passable roads. Dust and high altitude of Afghan's mountains take a heavy toll on helicopter engines.

A US military statement said details of the crash or the helicopter's mission would not be released until "completion of recovery operations."

Thousands of US forces are deployed in southeastern Afghanistan, including in Zabul, where they have a base under NATO command.

The province has long been a hotbed for militant supporters of the former Taliban regime who have stepped up attacks over the past year.

In May 2006, another US CH-47 Chinook crashed attempting a nighttime landing on a small mountaintop in eastern Kunar province, killing 10 US soldiers.

In 2005, a US helicopter crashed in Kunar, after apparently being hit by a rocket-propelled grenade, killing 16 American troops.

Another crash of a civilian helicopter last year in southeastern Khost province killed up to 16 people, including the wife and two daughters of a US civilian worker.

Meanwhile, NATO reported its forces had shot dead two Afghan civilians whom they mistook as suicide bombers in separate incidents.

A man who "appeared to be chanting and refused to heed warnings to stop" was shot dead as he crossed a road Saturday about seven miles west of Kandahar city, the alliance said in a statement.

Troops thought he was carrying a device with protruding wires. They later found that "he had twine, straps and other materials protruding from his jacket, which resembled wires, but there were no explosives," it said.

NATO-led troops also shot to death another Afghan man on Saturday believed to be a suicide bomber as he ran between vehicles of a military convoy stopped near Kandahar's military airfield.

President Hamid Karzai has repeatedly called on US and NATO-led troops to exercise extreme caution to prevent civilian casualties. Dozens of civilian deaths during operations by foreign troops have undermined his authority among Afghans.

Afghan troops, meanwhile, detained 11 suspected militants Saturday at a checkpoint in Sangin district of the volatile neighboring province, Helmand, said Defense Ministry spokesman Gen. Mohammad Zahir Azimi.

The men were traveling in two trucks and were carrying mortar tubes when they were stopped, Azimi said Sunday.

In an operation that ended early Sunday, British and Afghan troops attacked a major Taliban headquarters south of Garmsir in Helmand, destroying three major compounds and a tunnel complex linking them, according to an ISAF statement.

There were no British or Afghan casualties. It was not immediately clear if any Taliban were killed or arrested in the operation.

Southern Afghanistan is the center of the growing Taliban insurgency as well as the world's biggest opium poppy-producing area.

Meanwhile, al-Qaida released a video showing a young man asking for forgiveness from family, friends and teachers before he purportedly carries out a suicide car bombing against foreign troops in Afghanistan.

The video also carries previously released comments from Ayman al-Zawahri, al-Qaida's No. 2 leader, as a train of armed men are shown walking through mountains and while an explosion hits a military vehicle on a turn in a road.

In the video, the man, who does not identify himself, asks his parents to pray for patience when they get word that he has been "martyred."

Last year, militant supporters of the resurgent Taliban stepped up attacks, targeting Afghan government and foreign security forces. According to the US military, there were 139 suicide attacks during 2006, up from 27 in 2005.