BAGHDAD, Iraq - The success of a new security crackdown in Baghdad will be measured largely on how well the US-backed government capitalizes on any respite of sectarian violence, US Secretary of State Condoleezza Rice said Saturday.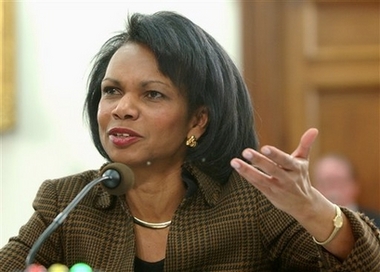 Secretary of State Condoleezza Rice testifies on Capitol Hill in Washington, Friday, Feb. 16, 2007, before the House Appropriations State, Foreign Operations and Related Programs subcommittee. [AP]


Rice made an unannounced visit to the Iraqi capital to check on the early days of the campaign to put down tit-for-tat violence between Sunnis and Shiites that has consumed Baghdad and contributed to the exodus of an estimated 3.8 million Iraqis from their homes.

Insurgent violence remains a concern. Rice's plane circled the airport for 30 minutes before landing because of military action in the city.

The joint US-Iraqi campaign is under way as the House delivered a symbolic blow to President Bush's strategy to turn around an unpopular war that has been largely stalemated by internal Iraqi reprisal killings and terror campaigns that have little to do with US forces.

"If in fact militias decide to stand down and stop killing innocent Iraqis ... that can't be a bad thing," Rice told reporters traveling with her. "But how the Iraqis use the breathing space that that might provide is what's really important."

Rice spoke with American troops and US Embassy personnel before a scheduled meeting with Iraqi Prime Minister Nouri al-Maliki, a Shiite. The beleaguered official is increasingly seen as unwilling or unable to deliver security, essential public services or political inclusion for minority Sunnis.

Rice is the highest-level US official in Iraq since the recent start of a massive security operation in the Iraqi capital. The visit was not previously announced as part of her trip to the Middle East.

She told the US forces and diplomats that their work was worthwhile in helping Iraq and securing the safety of the US at the same time.

"When you see Iraqis toiling and squabbling and struggling ... remember it's not easy to build a democracy," Rice said.

Rice will get an update on the security operation begun just days ago from US generals, but she told reporters that the campaign appeared to be off to a good start. The number of Iraqi civilians killed in Baghdad's sectarian violence fell drastically Friday, and officials credited the security operation begun in force just days ago.

Ten bodies were reported by the morgue in the capital, compared to an average of 40- to 50 per day common in recent months, as parts of Baghdad have descended into a lawless jumble of gang killings and sectarian payback.

While the reduction in killings was a relief, US officials sounded a note of caution. Maj. Gen. Joseph Fil, commander of US forces in Baghdad, said militias and insurgents have apparently decided to lie low at least during these early days of the security crackdown.

"They're watching us carefully," Fil said Friday. "There's an air of suspense."

But in the northern Iraqi city of Kirkuk a suicide car bomber rammed into a crowded market on Saturday moments after a booby-trapped vehicle exploded, killing at least nine people and injuring 60, the police said. The back-to-back blasts shattered the brief lull in major violence around the country.

Meanwhile in Washington, the House of Representatives on Friday passed a nonbinding resolution, 246-182, voicing opposition to Bush's decision to send 21,500 additional troops into Iraq. The Senate was to meet in a rare Saturday session to consider a similar measure.