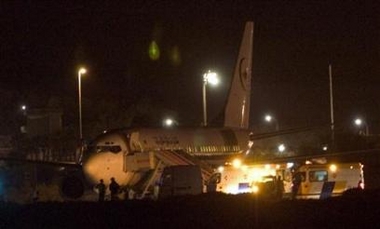 Spanish security forces surround a hijacked Air Mauritania Boeing 737 passenger plane after it landed at Gando airport in Las Palmas on the island of Gran Canaria in Spain's Canary Islands February 15, 2007. [Reuters]
MADRID- An armed man who hijacked a Mauritanian plane to Spain's Canary Islands Thursday was overpowered by passengers and crew before he was arrested by police who boarded the plane shortly after landing, government and airline officials said.
The man was overwhelmed by passengers and arrested when police stormed the Air Mauritania 737 shortly after the aircraft landed at Gando military base on Gran Canaria island, Spanish Interior Ministry official Carolina Darias said.
Air Mauritania director Mohamed Ould Aoufa said the crew was involved in overpowering the hijacker.
Twenty-one of the 71 passengers ¡ª mostly Spaniards and Mauritanians ¡ª 21 were treated for slight injuries, a Las Palmas police spokesman said. The most seriously affected was a pregnant woman was treated for severe shock.
Police said the man had been carrying two loaded handguns. Police did not say when during the incident he had been overpowered.
Mohamed Ould Mohamed Cheikh, Mauritania's top police official, said the hijacker was a Moroccan from Western Sahara who wanted to immigrate to France.
The man had tried many times to obtain a visa at the French embassy in the Mauritanian capital, Nouakchott, where he had lived for a few months, Mohamed said. The hijacker's identity wasn't given.
The Boeing 737, with eight crew, was hijacked after leaving Nouakchott at 4.30 p.m.
Aoufa said the hijacker demanded to go to France but after the crew refused because of a lack of fuel the plane turned toward the Spanish islands.
When it landed at Gando military airport shortly after 7 p.m., the plane was immediately surrounded by paramilitary Civil Guard police. The ordeal ended minutes later.
Moroccan authorities refused the hijacker's request to land in Moroccan territory, the North African kingdom's MAP news agency said. A spokesman for Morocco's Interior Ministry said he was not aware of the hijacking.