CAIRO, Egypt - Al-Qaida's No. 2 said President Bush was an alcoholic and a lying gambler who wagered on Iraq and lost, according to a new audiotape released Tuesday.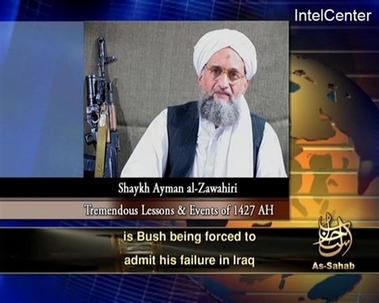 This image made from an undated al-Qaeda video made available by IntelCenter on Tuesday, Feb. 13, 2007, shows a man identified as Al-Qaida's No. 2, Ayman al-Zawahri. [AP]


Ayman al-Zawahri said in the tape that Bush has been forced to admit his failure in Iraq after he was "stubborn" and repeated the "lie, which he became addicted to, that he is winning" in Iraq and Afghanistan.

"Bush suffers from an addictive personality, and was an alcoholic. I don't know his present condition ... but the one who examines his personality finds that he is addicted to two other faults - lying and gambling," al-Zawahri said in the audiotape.

Bush, who is now 60, has acknowledged he had a problem with drinking but gave up alcohol when he was 40 years old.

The 41-minute audiotape could not immediately be authenticated but was seen by The Associated Press on a Web site commonly used by insurgent groups and carried the logo of the multimedia arm of al-Qaida, as-Sahab.

The audio was accompanied by a video that showed a still picture of al-Zawahri and featured an English translation of the audio at the bottom of the screen.

Transcripts of the audiotape were first released by two US groups that track extremist messages, the SITE Institute and the IntelCenter.

On the tape, al-Zawahri said Bush has gone down in history as one of the world's "most notorious liars."

"So pay attention before it's too late, and beware of Bush's losing gambler's lie which claims that he, with the corpses of your killed and limbs of your wounded, is spreading democracy around the world," said al-Zawahri, apparently addressing the American people.

Al-Zawahri also said recent congressional elections in the United States that elected a majority of Democrats would change nothing.

"The people chose you due to your opposition to Bush's policy in Iraq, but it appears that you are marching with him to the same abyss," al-Zawahri said of the Democrats according to the transcript.

He repeated an earlier condemnation of the Palestinian Fatah movement led by Mahmoud Abbas for seeking to establish a secular state.

"I'm not asking them to join Hamas, the Islamic Jihad or al-Qaida, but rather, I'm asking them to return to Islam, in order to fight for the establishment of an Islamic state over all of Palestine and not for the establishment of a secularist state which will please America," al-Zawahri said.

He also warned of an escalating threat from the Taliban in Afghanistan and called on all Muslims to strive for unity, "even if they are Afghans, Persians, Turks or Kurds."

It was the fourth message by Osama bin Laden's deputy since the beginning of the year. The last was on Jan. 22, when he mocked Bush's plan to send an additional 21,000 troops to Iraq.

Al-Zawahri called what he described as Bush' failure in Iraq and the growing Taliban resistance in Afghanistan the "most important events" of the past year. He also said "the people cooperating with the United States in Afghanistan and in Iraq would be abandoned by the Americans once they fail, the same way they did in Vietnam."

Muslims around the world, he added, should go to "Afghanistan, Iraq, Algeria and Somalia, because your brothers the Mujahedeen are in need of men, money, materiel, opinion, expertise and information."

The al-Qaida leader also threatened that countries allied to the United States in the region "must reap their bitter harvest," specifically naming Egypt, Jordan and Saudi Arabia.

He described calls by such countries to protect Iraq's Sunni Arabs as "charlatanism," and said the Arab League had become a "museum for mummified Arab dignity and a home for special occasions."