Putin warns US policy creating new arms race
(AP)
Updated: 2007-02-10 21:06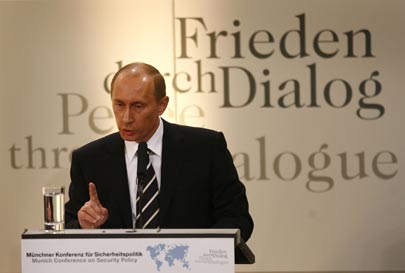 Russia's President Vladimir Putin makes a point during his speech at the Bayerischer Hof hotel during the 43rd Conference on Security Policy in Munich, February 10, 2007. [Reuters]


Russian President Vladimir Putin warned Saturday that the United States' increased use of military force is creating a new arms race, with smaller nations turning toward developing nuclear weapons.

Speaking at a conference of the world's top security officials, including Iranian nuclear negotiator Ali Larijani, Putin said nations "are witnessing an almost uncontained hyper use of force in international relations."

"One state, the United States, has overstepped its national borders in every way," he told the 250 officials, including more than 40 defense and foreign ministers.

"This is very dangerous: Nobody feels secure anymore because nobody can hide behind international law," he said through a translator.

"This is nourishing an arms race with the desire of countries to get nuclear weapons," he added, without singling out any particular nation.

In a harshly critical speech, Putin also voiced concern about US plans to build a missile defense system in eastern Europe, probably Poland and the Czech Republic, and the expansion of NATO as possible challenges to Russia.

"The process of NATO expansion has nothing to do with modernization of the alliance or with ensuring security in Europe," Putin said. "On the contrary, it is a serious factor provoking reduction of mutual trust."

He also dismissed suggestions that the European Union and NATO had the right to intervene alone in crisis regions.

"The legitimate use of force can only done by the United Nations, it cannot be replaced by EU or NATO," he said.

On the missile defense system, Putin said: "I don't want to accuse anyone of being aggressive" but suggested it would seriously change the balance of power and could provoke an unspecified response.

"That balance will be upset completely and one side will have a feeling of complete security and given a free hand in local, and probably in global, conflicts..." he said. "We need to respond to this."

US Senator Joseph Lieberman called Putin's comments "provocative," saying the charge that the US "aspired to get unipolar power or acted unilaterally is just not borne out by the facts."

"Even our involvement in Iraq, certainly Afghanistan, is pursuant to United Nations resolutions," said Lieberman, a Connecticut Independent. "So that was provocative and wrong."

Asked if he had any reaction to Putin's charges, US Defense Secretary Robert Gates just shook his head and said no.

Putin's spokesman Dimitry Peskov said the Russian leader did not intend to be confrontational, but acknowledged it was his harshest criticism of the United States since he was elected in March 2000.

"The reason for his comments is Russia's concern about the growing amount of conflicts and the malfunctioning of international law," Peskov said.

"Until we get rid of unilateralism in international affairs, until we exclude the possibility of imposing one country's views on others, we will not have stability."

Earlier, German Chancellor Angela Merkel said Tehran needs to accept demands made by the UN and the International Atomic Energy Agency on its nuclear program.

"There is no way around this," Merkel said. "What we are talking about here is a very, very sensitive technology, and for that reason we need a high degree of transparency, which Iran has failed to provide, and if Iran does not do so, then the alternative for Iran is to slip further into isolation."

Putin also pushed for an Iranian response, saying he did "not quite understand why" Tehran had not yet addressed the demands.

"I think together we should be patient and work to provide incentives to show the Iranian leadership that cooperation is much better than confrontation with the international community," Putin said.

On the sidelines of the conference, Larijani defended his country's nuclear program as peaceful, saying: "We are no threat to our region or other countries," while indicating a willingness to return to negotiations.

"We are prepared to work together with other countries for a comprehensive peace," he said.

Merkel, whose country holds the rotating European Union presidency, emphasized the international community's support for Israel and said there was a unified resolve to prevent Iran from developing nuclear weapons.

"We are determined to prevent the threat posed by an Iranian military nuclear program," she said.

The annual Munich Conference on Security Policy, now in its 43rd year, often is used as an opportunity for officials to conduct diplomacy in an informal setting.

Some 3,500 police were on hand to keep some 1,300 protesters in check, officials said. Scattered arrests were reported, but police said there were no major incidents.

Heading into the conference, Larijani said he planned to use the gathering as an opportunity to discuss about Iran's nuclear program, the first talks with Western officials since limited UN sanctions were imposed in December.

Larijani was expected to meet with German Foreign Minister Frank-Walter Steinmeier and EU foreign policy chief Javier Solana.

The conference this year focuses on "Global Crises, Global Responsibilities," looking at NATO's changing role, the Middle East peace process, the West's relations with Russia and the fight against terrorism.

Merkel opened the conference by telling the delegates that one of the major threats facing the world today is global warming, urging a combined effort to combat it.

"Global warming is one of the major medium- to long-term threats that could have a dramatic effect," she said.

"This threat is a global threat: It affects everyone, no one can escape, and it is one we can only tackle together," Merkel said.
Most Commented/Read Stories in 48 Hours