AGHDAD, Iraq - Four US Marines were killed in fighting in Anbar province, the military said Thursday. The Marines, who were assigned to Multi-National Force - West, died Wednesday from wounds sustained due to enemy action in two separate incidents in the insurgent stronghold west of Baghdad, according to a statement.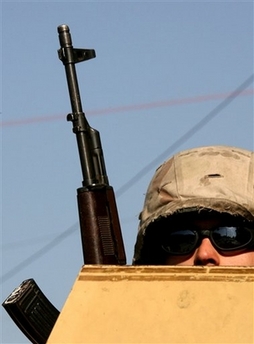 An Iraqi army soldier oversees traffic at a vehicle checkpoint in Baghdad, Iraq, Thursday, Feb. 8, 2007. US officials confirmed the new security operation which will involve about 90,000 Iraqi and American troops and is seen by many as a last chance to curb Iraq's sectarian war was under way after a delayed start. [AP]


The deaths raised to at least 3,114 members of the US military who have died since the Iraq war started in March 2003, according to an Associated Press count.

Iraqi forces on Thursday detained a senior Health Ministry official accused of corruption and helping to funnel millions of dollars to Shi'ite militiamen blamed for much of the recent sectarian violence in the capital, the US military said.

The raid was the latest action in a crackdown on radical Shi'ite cleric Muqtada al-Sadr's militia, coming a day after the chief US military spokesman Maj. Gen. William Caldwell said a security sweep to stop the rampant attacks in the capital was under way.

Violence also was unrelenting Thursday, with car bombs striking Shi'ite targets in Baghdad and south of the capital. At least 43 people were killed or found dead in Iraq.

The US Embassy in Baghdad, meanwhile, said US officials were investigating a Jan. 31 incident involving a civilian helicopter after The New York times reported that insurgents had brought the chopper down with ground fire during a flight between Hillah and Baghdad.

If confirmed, it would be the sixth helicopter to crash in Iraq since Jan. 20, prompting the US military to review flight operations. The most recent crash occurred Wednesday when a CH-46 Sea Knight went down northwest of Baghdad, killing seven people.

The military statement did not name the official, but a ministry spokesman said earlier that US and Iraqi forces had seized deputy Health Minister Hakim al-Zamili, an al-Sadr supporter, from his first-floor office in northern Baghdad.

The detainee was implicated in the deaths of several ministry officials, including the director-general in Diyala province, northeast of Baghdad, the military said.

He reportedly orchestrated several kickback schemes related to inflated contracts for equipment and services, with millions of dollars allegedly funneled to the Mahdi Army militia that is loyal to al-Sadr, according to the statement.

The official also was suspected of providing large-scale employment of militia members who used Health Ministry facilities and services for "sectarian kidnapping and murder," the military said.

Joint US-Iraqi forces stormed the Health Ministry compound early Thursday, causing all the employees to flee, spokesman Qassim Yahya said.

One of al-Zamili's bodyguards said he heard gunshots, then the Americans asked him to step aside and approached the deputy health minister, who introduced himself by name and title. A US soldier told al-Zamili he was on a list of wanted names and handcuffed him before leading him away, the bodyguard said, speaking on condition of anonymity because of security concerns.

In the deadliest attack Thursday, a parked car bomb exploded about 10:30 a.m. at a meat market in the predominantly Shi'ite town of Aziziyah, 56 miles south of Baghdad, killing 20 people and wounding 45, police said.

Another parked car bomb tore through a minibus nearly an hour earlier in the mainly Shi'ite Amin neighborhood in southeastern Baghdad, killing seven passengers and wounding 10, police said.

The blast blew out the windows of at least one car parked in a nearby driveway and left piles of rubble and ashes that were being cleared away by street sweepers as the burned out frame of the bus stood nearby.

Baghdad's streets have been electric with tension as US officials confirmed the new security operation was under way. US armor rushed through streets and Iraqi armored personnel carriers guarded bridges and major intersections.

New coils of barbed-wire and blast barriers marked checkpoints that caused traffic bottlenecks. US Apache helicopters were in the air over parts of the city where they hadn't been seen before. Gunfire still rang out across the city and some residents said they doubted life would get better.

"Nothing will work; it's too late," said Hashem al-Moussawi, a resident of the Sadr City Shi'ite enclave who was badly wounded in a bombing in December.

Underlining the dangers ahead, a Sea Knight helicopter crashed Wednesday northwest of Baghdad, killing all seven people on board, the US military said.

A military statement did not give a cause for the crash, but a senior US defense official in Washington said the CH-46 helicopter did not appear to have been hit by hostile fire. An Iraqi air force officer said, however, the helicopter was shot down with a missile. An al-Qaida-linked Sunni group said in a Web statement it was responsible.

The New York Times reported Wednesday that insurgents attacked another helicopter with ground fire in a previously undisclosed incident on Jan. 31, forcing it to land on a flight between Hillah and Baghdad in support of State Department operations.

Another American helicopter rescued passengers and crew but a US military quick reaction force suffered several casualties while responding to the scene, the newspaper said, citing unnamed American officials. The US military had no immediate comment.

The five confirmed helicopter downings include a chopper operated by the private security group Blackwater USA, which provides guards for State Department employees.

Caldwell said Wednesday that the much-awaited Baghdad security operation was finally under way but would be implemented gradually. It is the third attempt by Prime Minister Nouri al-Maliki and his US backers to pacify Baghdad since the Shi'ite leader came to office in May. The operation, which will involve about 90,000 Iraqi and American troops, was seen by many as a last chance to curb Iraq's sectarian war.