ISLAMABAD - Pakistani investigators have been quizzing two suspects after an Islamic militant was killed by his own hand grenade in a brazen attack on Islamabad international airport, according to officials.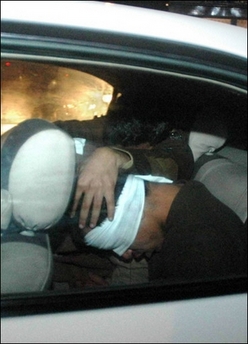 Pakistani security officials whisk away a suspect who alledgely drove a suicide bomber into the Islamabad International Airport, in Islamabad. [AFP]


The attack late Tuesday was the fifth in less than two weeks in Pakistan, raising fears that Taliban militants fighting Pakistani troops near the Afghan border are trying to embarrass President Pervez Musharraf.

The two suspects were in a car which drove the attacker to the airport car park, where he exchanged gunfire with security forces after they stopped him at a security checkpost, injuring three police. He then died in the blast.

"We are interrogating two people - one of them is a driver and the other one was also said to be travelling in the same car," a senior security official told AFP.

Officials hoped they could provide leads to the group behind the attack amid fears the militants are "desperate" to send a message to military ruler Musharraf's government.

Interior Minister Aftab Sherpao confirmed there were three men in the car but gave no further details.

He however said the incident was no longer being considered as a suicide attack because "when we searched the body we did not find any explosive belt on him."

"The circumstantial evidence does not suggest that it was a suicide attack. He might have come for a hit and run attack," Brigadier Javed Cheema, head of the interior ministry's national crisis management cell, told AFP.

"When police tried to check the car he pulled a mask on his face and started firing. He ran towards the car park and threw a grenade which did not explode. Three bullets hit him in the chest and one grenade was found on his body."

The bearded bomber's bloodstained body, with the legs mangled by the blast, was shown to journalists after the explosion. Several cars were also damaged in the blast and the exchange of fire.

The airport was briefly closed and several flights were delayed or diverted.

Cheema said security had been further beefed up at other airports.

Musharraf flew in to nearby Chaklala Airbase hours after the attack following a trip to Iran and Turkey.

The president angered Islamic hardliners by abandoning Pakistan's support for the Taliban regime after the September 11, 2001 attacks on the United States and launching a crackdown on militants.

He has escaped two assassination attempts blamed on Al-Qaeda in 2003.

This is a message to the government that they can strike at the most sensitive areas," a top intelligence official told AFP on condition of anonymity.

| | | |
| --- | --- | --- |
| 1 | 2 | |