IENNA, Austria - Shrugging off the threat of tougher UN sanctions, Iran has set up more than 300 centrifuges in two uranium enrichment units at its underground Natanz complex, diplomats and officials said Monday.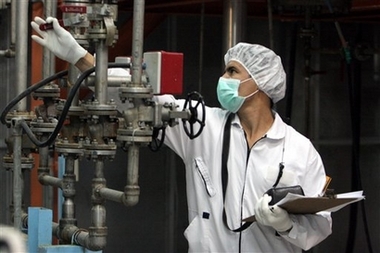 An Iranian technician works at the Uranium Conversion Facility just outside the city of Isfahan 255 miles (410 kilometers) south of the capital Tehran, Iran, Saturday, Jan. 3, 2007. [AP]


The move potentially opens the way for larger scale enrichment that could be used to create nuclear warheads. Iranian leaders have repeatedly said the Natanz underground hall would house first 3,000 centrifuges and ultimately 54,000 machines.

It also poses a direct challenge to the Security Council, which late last month imposed limited sanctions targeting programs and individuals linked to Tehran's nuclear and ballistic missile programs - and warned of stricter penalties within 60 days unless Iran freezes enrichment.

Speaking separately - and demanding anonymity because their information was confidential - a diplomat accredited to the Vienna-based International Atomic Energy Agency and a US official said that two "cascades" of 164 centrifuges each had been set up in recent days.

The likely next step was "dry testing" - running the linkups without uranium gas inside - to be followed by attempts to spin and re-spin the gas. The process, known as enrichment, can be used to fuel nuclear power plants. But at higher levels of enrichment the material can be used for the core of nuclear warheads.

Both the Iranian leadership and the Vienna-based IAEA, which is the UN's nuclear watchdog agency, had said recently that Tehran would start assembling the machines this month.

In another sign that Tehran was forging ahead with plans to create a large-scale "pilot plant" of 3,000 centrifuges running in series, UN officials late last week told the AP that that piping, cables, control panels and air conditioning systems had been installed at Natanz to support such a number of machines.

David Albright, the former UN nuclear inspector whose Washington-based Institute for Science and International Security tracks Iran's nuclear activities, said the country was likely capable of hooking up 300 to 500 centrifuges a month, allowing it to reach its goal of a 3,000-machine linkup this year.

Such an operation could be used to produce fissile material for two bombs a year, but Albright - like other analysts - suggested that it could take somewhat longer as the Iranians have had only limited success in running the machines for prolonged periods without breakdowns in aboveground tests at Natanz.

Iran says it wants to use the technology to generate nuclear power, but the US and other nations believe Tehran is intent on using the process to develop weapons. Albright said Iran could opt to create a large stockpile of low-enriched uranium which it could then use to "break out" and re-enrich to weapons grade at any time.

The International Institute for Strategic Studies, a London-based think tank, last week estimated that Iran was two to three years away from having the capacity to build a nuclear weapon. The head of US national intelligence, John Negroponte, has spoken of a four-year period.

The State Department did not comment directly on the reported centrifuge setups, saying only that it would push for "incremental" UN Security Council sanctions against Iran if Tehran authorities continue to ignore council demands for suspension of the country's uranium enrichment program.

Spokesman Sean McCormack said that Iran appears to be continuing "down the path of isolation."