BAGHDAD - Three car bombs killed 24 people and wounded scores in Baghdad on Monday, and gunmen attacked two Sunni areas, clashing with residents and setting houses on fire.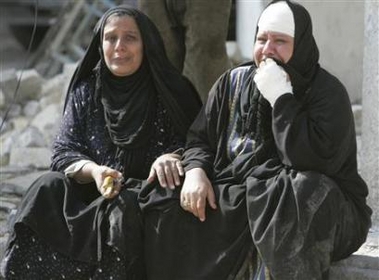 Women cry outside their home which was destroyed in a car bomb attack in Baghdad February 5, 2007. [Reuters]


The violence came on a day when the military command center that will oversee a planned offensive by Iraqi and US troops in the city was due to become operational. US officers said on Sunday that the crackdown would begin "soon thereafter."

In the worst blast on Monday, a car bomb targeting a petrol station in the religiously mixed southern neighborhood of Saidiya killed 10 people and wounded 62, while eight people were killed and 40 wounded when a car bomb exploded in a garage.

A car bomb exploded near a childrens' hospital in Andalus square in central Baghdad, killing six and wounding nine.

The city is on edge as war-weary residents look for signs the security sweep promised by Shi'ite Prime Minister Nuri al- Maliki in January has begun. A US general on Sunday urged Iraqis to be patient and allow for a troop buildup.

The only unusual activity on Monday appeared to be in the southern Dora neighborhood, where a convoy of 12 US Humvees and four Abrams tanks were seen heading toward Baghdad, but it was not immediately clear if it was related to the planned push.

Police said militants attacked Adhamiya district in northern Baghdad, clashing with residents. There were no immediate reports of casualties, but 15 people were killed there in a mortar barrage on Sunday.

In Amil, a religiously mixed area in southwestern Baghdad, gunmen wearing police commando uniforms pulled people from their homes in Janabiyeen, a Sunni enclave that is home to members of the Janabiyeen tribe, and set at least five houses ablaze, witnesses said.

"I can see eight bodies, including an old man and two teenagers. No one can retrieve them because there are snipers on the roofs of some houses," said one resident.

TRUCK BOMB

Maliki's Baghdad security plan is seen as a last-ditch effort to quell soaring sectarian violence between majority Shi'ites and once dominant Sunni Arabs that has claimed 1,000 lives across Iraq in the last week.

On Saturday, a suicide truck bomb killed 135 people in a Shi'ite area of Baghdad in the worst single bombing since the US-led 2003 invasion.

President Bush has committed 17,000 more troops to Baghdad to help Iraqi forces sweep through neighborhoods, clearing them of militants and illegal weapons.

"It's going to be an operation unlike anything this city has seen," Colonel Doug Heckman, senior adviser to the 9th Iraqi Army division, said on Sunday.

A crucial step toward launching the sweep will be activating the command center, which Heckman said would become operational on Monday. The center will be headed by an Iraqi general, but US troops will not take orders from Iraqi officers.

A previous attempt to clear militants failed last summer because, US commanders said, there were not enough Iraqi troops to hold gains made by the Americans and because Shi'ite politicians stopped them arresting Shi'ite militants.

This time, US generals say Iraqi units, although still under strength, are deploying on schedule, and Maliki has vowed to target militants regardless of their religious persuasion.

Critics have accused him of being reluctant in the past to tackle the Mehdi Army militia of political ally Moqtada al-Sadr.

Iraqi and US forces killed a top official of Sadr's organization in a raid on his home north of Baghdad on Sunday, calling him a "rogue leader" of the Mehdi Army.

The US military said in a statement on Monday that Khadhim al-Hamadani had reportedly been responsible for attacks on US and Iraqi troops and was believed to have "facilitated and directed numerous kidnappings, assassinations and other violence."

A British soldier was killed by a roadside bomb in the southern city of Basra, taking to 100 the number killed in action in Iraq since the 2003 invasion, British defense officials said.