BOSTON - More than 10 blinking electronic devices planted at bridges and other spots in Boston threw a scare into the city Wednesday in what turned out to be a publicity campaign for a late-night cable cartoon. Most if not all of the devices depict a character giving the finger.
Boston police said Wednesday night that one person had been arrested, and authorities scheduled a news conference to provide details.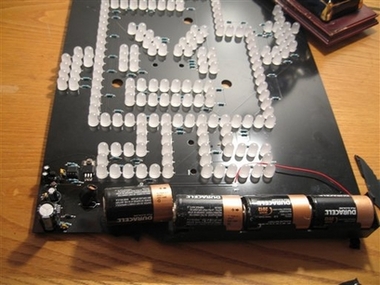 This photo provided by Todd Vanderlin shows an electronic device that was removed from where it had been hanging beneath an overpass in Boston, Monday Jan. 15, 2007. This and other similar devices, planted at bridges and other spots in Boston threw a scare into Boston Wednesday Jan. 31, 2007 in what turned out to be a publicity campaign for the late-night cable cartoon. [AP]


Highways, bridges and a section of the Charles River were shut down and bomb squads were sent in before authorities declared the devices were harmless.
"It's a hoax ¡ª and it's not funny," said Gov. Deval Patrick, who said he'll speak to the state's attorney general "about what recourse we may have."
Turner Broadcasting, a division of Time Warner Inc. and parent of Cartoon Network, said the devices were part of a promotion for the TV show "Aqua Teen Hunger Force," a surreal series about a talking milkshake, a box of fries and a meatball.
"The packages in question are magnetic lights that pose no danger," Turner said in a statement, issued a few hours after reports of the first devices came in.
It said the devices have been in place for two to three weeks in 10 cities: Boston; New York; Los Angeles; Chicago; Atlanta; Seattle; Portland, Ore.; Austin, Texas; San Francisco; and Philadelphia.
"We regret that they were mistakenly thought to pose any danger," the company said. As soon as the company realized the problem, it said, law enforcement officials were told of their locations in all 10 cities.
The marketing firm that put them up has been ordered to remove them immediately, said Phil Kent, Turner chairman.
"We apologize to the citizens of Boston that part of a marketing campaign was mistaken for a public danger," Kent said. "We appreciate the gravity of this situation and, like any responsible company would, are putting all necessary resources toward understanding the facts surrounding it as quickly as possible."
Interference Inc. had no immediate comment. A woman who answered the phone at the New York-based firm's offices Wednesday afternoon said the firm's CEO was out of town and would not be able to comment until Thursday.