JERUSALEM - Israeli Vice Premier Shimon Peres says that Israel does not intend to use military force against Iran, which Israel suspects is building nuclear bombs.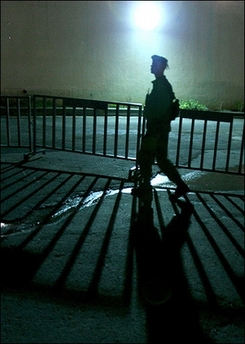 On patrol : A Palestinian security officer stands guards the Muqataa or the Palestinian Authority building in Ramallah. [AFP]


In addition to Iran's nuclear program, Israel considers the Mideast country a threat because of repeated declarations by its president, Mahmoud Ahmadinejad, that the Jewish state should be wiped off the map.

Peres spoke Tuesday during "The Doha Debates," a project in which world leaders discuss current events with students in mideast nation of Qatar.

According to taped excerpts of Peres' comments, the Israeli leader denied that Israel intended to strike Iran's nuclear facilities.

Moderator Tim Sebastian recalled that Peres said last week at the Davos economic forum that there are only two options for dealing with Iran - regime change or military action.

Asked if he would rule out military action, Peres said, "By Israel, yes. Israel doesn't intend to use military action."

Peres also said that Israel would not interfere in the internal affairs of Iran. Ahmadinejad "is a problem for the Iranian people because he does not carry neither a promise, nor a solution," he said.

Qatar and Israel have low-level relations, and visits by senior officials are rare.
Special coverage:
Iran Nuke Issue

Related readings:
PM puts Israel on nuclear list for first time
Israel official: Strike on Iran possible
Israeli leaders have called for international action to prevent Iran from acquiring nuclear weapons. Israel has said it would take part in such an effort, emphasizing diplomatic means, but it has not ruled out using its military.

There has been speculation about the possibility that Israel might send its air force to bomb Iranian nuclear installations, as it did in 1981, when Israel destroyed the Iraqi nuclear reactor in an airstrike. But most experts believe that would not be possible against Iran.