WASHINGTON - A Senate Republican on Tuesday directly challenged President Bush's declaration that "I am the decision-maker" on issues of war.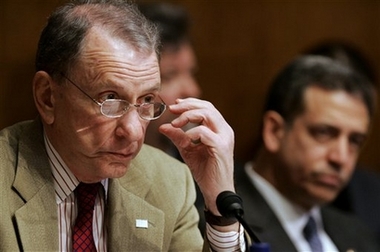 Sen. Arlen Specter, R-Pa., ranking Republican on the Judiciary Committee, left, and Sen. Russ Feingold, D-Wis., listen to testimony on Congress' constitutional power to end a war, Tuesday, Jan. 30, 2007 on Capitol Hill in Washington. [AP]


"I would suggest respectfully to the president that he is not the sole decider," Sen. Arlen Specter, R-Pa., said during a hearing on Congress' war powers amid an increasingly harsh debate over Iraq war policy. "The decider is a shared and joint responsibility," Specter said.

The question of whether to use its power over the government's purse strings to force an end to the war in Iraq, and under what conditions, is among the issues faced by the newly empowered Democratic majority in Congress, and even some of the president's political allies as well.

No one challenges the notion that Congress can stop a war by canceling its funding. In fact, Vice President Dick Cheney challenged Congress to back up its objections to Bush's plan to put 21,500 more troops in Iraq by zeroing out the war budget.

Underlying Cheney's gambit is the consensus understanding that such a drastic move is doubtful because it would be fraught with political peril.

But there are other legislative options to force the war's end, say majority Democrats and some of Bush's traditional Republican allies.

The alternatives range from capping the number of troops permitted in Iraq to cutting off funding for troop deployments beyond a certain date or setting an end date for the war.

"The Constitution makes Congress a coequal branch of government. It's time we start acting like it," said Sen. Russell Feingold, D-Wis., who presided over a hearing Tuesday on Congress' war powers. He also is pushing legislation to end the war by eventually prohibiting funding for the deployment of troops to Iraq.

His proposal, like many others designed to force an end to US involvement in the bloody conflict, is far from having enough support even to come up for a vote on the Senate floor.

Closer to that threshold is a nonbinding resolution declaring that Bush's proposal to send 21,500 more troops to Baghdad and Anbar province is "not in the national interest." The Senate could take up that measure early next month.

But some senators, complaining that the resolution is symbolic, are forwarding tougher bills.

Democratic Sen. Barbara Boxer of California, for example, is a sponsor of a bill that would call for troops to come home in 180 days and allow for a minimum number of forces to be left behind to hunt down terrorists and train Iraqi security forces.

"Read the Constitution," Boxer told her colleagues last week. "The Congress has the power to declare war. And on multiple occasions, we used our power to end conflicts."

Congress used its war powers to cut off or put conditions on funding for the Vietnam war and conflicts in Cambodia, Somalia and Bosnia.

| | | |
| --- | --- | --- |
| 1 | 2 | |