HAVANA - Cuban state television on Tuesday showed a video of Fidel Castro meeting with Venezuelan President Hugo Chavez, the first images of the ailing leader shown in three months.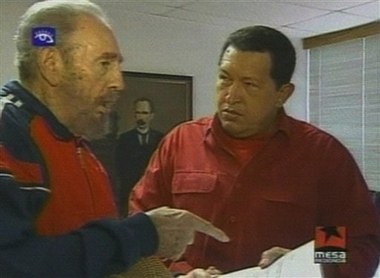 In this video frame grab taken from the Cuban television show 'Mesa Redonda' and made available by AP Television News, Cuban leader Fidel Castro, left, meets with Venezuelan President Hugo Chavez in Havana, Monday Jan. 29, 2007. [AP]


The report said the 10-minute video clip was taped on Monday, in a two-hour private meeting that was not previously publicized.

Castro, who was standing, looked alert and heavier than in previous images that had showed him appearing very thin and frail. Dressed in a red, white and blue track suit, the 80-year-old was also shown sitting and drinking orange juice.

The broadcast came on the eve of Castro's July 31 announcement that he had undergone intestinal surgery and was provisionally ceding power to his younger brother Raul.

Castro's medical condition is a state secret, but Cuban authorities deny he suffers from terminal cancer, as US intelligence officials have claimed.

The latest images seemed to be aimed at knocking down the most recent round of reports about Castro's health, including a report in the Spanish newspaper El Pais earlier this month that described his health as "grave."

Citing two medical sources at Madrid's Gregorio Maranon hospital, the newspaper said intestinal operation failed when a suture burst, leaving the Cuban leader in grave condition. Cuban officials have denied the account.

The hospital's chief surgeon is Jose Luis Garcia Sabrido, who flew to Cuba in December to treat Castro. But Garcia Sabrido said in an interview posted on CNN's Web site last week that El Pais' account of Castro's condition being grave was wrong.