ASHINGTON - President Bush said Monday the United States "will respond firmly" if Iran escalates military action in Iraq and endangers American forces. But Bush emphasized he has no intention of invading Iran.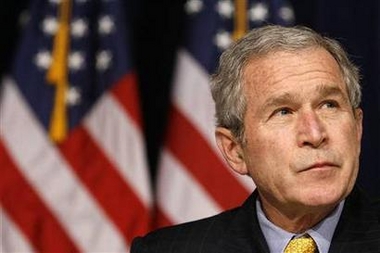 US President George W. Bush looks up before speaking at the House Republican Conference in Cambridge, Maryland, January 26, 2007. [Reuters]


Bush also acknowledged skepticism concerning US intelligence about Iran, because Washington was wrong in accusing Iraq of harboring weapons of mass destruction before the US-led invasion in 2003. "I'm like a lot of Americans that say, 'Well, if it wasn't right in Iraq, how do you know it's right in Iran,'" the president said.
Special coverage:
Iran Nuke Issue

Related Readings:
Iran plans to expand ties with Iraq
UN agency halts some Iran aid
Iran gets army gear in Pentagon sale
Iran president sends note to Saudi king
Iran gets army gear in Pentagon sale
Gates: Iran sees US as bogged down
The president, in an interview with NPR, said the United States was "constantly evaluating and answering this legitimate question by always working to get as good intelligence as we can."
Sharply at odds over Iran's suspected nuclear weapons program, Washington and Tehran increasingly are arguing about Iraq, where both countries are seeking influence. The White House said last week that American troops in Iraq have been authorized to kill or capture Iranian agents deemed to be a threat. Iran's ambassador followed up by telling The New York Times that Tehran plans to greatly expand its economic and military ties with Iraq and open an Iranian national bank branch in Baghdad.
The United States accuses Iran of supplying terrorists and insurgents in Iraq with improvised explosive devices that have become the most lethal threat to US forces. The Bush administration says it decided to take a tougher line with Tehran after months of evidence showing Iran was assisting anti-US forces.
"If Iran escalates its military action in Iraq to the detriment of our troops and/or innocent Iraqi people, we will respond firmly," the president said. "It makes common sense for the commander in chief to say to our troops and the Iraqi people and the Iraqi government that we will help you defend yourself from people that want to sow discord and harm. And so we will do what it takes to protect our troops."
Bush said it was important to distinguish the nuclear standoff with Iran from the quarrel over Tehran's involvement in Iraq. He said he believed the dispute over Iran's nuclear program could be resolved diplomatically.
Senate Majority Leader Harry Reid, D-Nev., has said Bush does not have authority to launch military action in Iran without first seeking congressional authorization.
Bush told NPR he had no intention of going into Iran. "This is the kind of thing that happens in Washington," the president said. "People ascribe, you know, motives to me beyond a simple statement - 'Of course we'll protect our troops.' I don't know how anybody can then say, 'Well, protecting the troops means that we're going to invade Iran.'"