Japan's conservative government upgraded the Defense Agency to a full ministry on Tuesday for the first time since World War II, in line with Prime Minister Shinzo Abe's push to give the military a greater profile.
The upgrading of the Defense Agency, formerly under the Cabinet Office, passed Parliament last month without significant opposition, propelled by deep concern in Japan over North Korean missile and nuclear weapons development.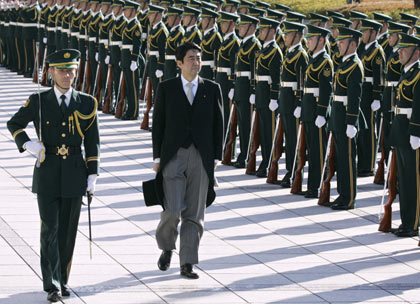 Japanese Prime Minister Shinzo Abe (C) reviews troops during a ceremony marking the Defence Agency being upgraded to a ministry, at Defence Ministry in Tokyo January 9, 2007. [Reuters]
At a formal ceremony Tuesday, Defense Agency chief Fumio Kyuma was named defense minister and then took the reins of a new ministry with greater budgetary powers and prestige. The enhancement is a reversal for a military establishment that has kept a low profile since being discredited by Japan's disastrous wartime defeat.
Abe and Kyuma marked the occasion by reviewing a Japanese honor guard on the parade grounds outside the new ministry. Also in attendance were military representatives from tens of countries, including U.S. Marine Corps Maj. Gen. Timothy Larsen, deputy commander for U.S. Forces Japan.
"I'm truly proud today on this occasion as the prime minister to have inaugurated a Defense Ministry - an organization with the responsibility for defense that is a nation's inalienable sovereign right," Abe said.
Some critics have argued, however, that giving the military greater leeway violates the country's 1947 U.S.-drafted Constitution, which foreswears Japan from using force to settle international disputes. Tokyo maintains a military ostensibly for self-defense only and still hosts some 50,000 U.S. troops at bases around the country under a security alliance.

| | | |
| --- | --- | --- |
| 1 | 2 | |