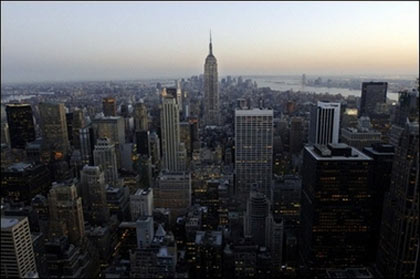 The New York city skyline in May 2006. Emergency services in New York City are hunting for the source of a strong odor, but were at a loss to explain what many reported to be the smell of natural gas.[AFP]


A powerful, mysterious smell of gas wafted through much of Manhattan and parts of New Jersey on Monday, forcing building evacuations and a temporary suspension of commuter train service before dissipating by mid-afternoon.

Officials were quick to stress that the natural gas-like odor was not dangerous, but at least 19 people went to hospital suffering minor complaints and its wide extent provoked jitters in a city that is constantly reminded of the September 11 attacks.

Twelve people were taken by ambulance to New York hospitals by emergency workers responding to calls from people complaining of upset stomachs, dizziness or difficulty breathing, a Fire Department spokesman said.

"It was all minor," said the spokesman, though he added a total of 409 fire trucks and hook and ladder rigs were scrambled to investigate the fumes -- about six times more than during a normal period.

Seven people went to the hospital seeking treatment in New Jersey, just across the Hudson River from New York, although New York City Mayor Michael Bloomberg said the odor was not dangerous and no unusual gas leaks had been found.

"It may just be an unpleasant smell, but at this point we do not know any more than that. The one thing we are confident about is, it is not dangerous," Bloomberg told a news conference.

"The city's air sensors do not report any elevated level of natural gas," he said.

The natural gas-like smell permeated lower Manhattan and was detected as far north as Central Park, across the width of the island, and in New Jersey.

A US Department of Homeland Security spokesman said there was no indication of a terrorism connection.

Four schools in Manhattan were briefly evacuated, and the smell chased people out of landmarks such as the Rockefeller Center and Macy's department store.

"It was really, really bad then, so bad it gave me a headache," said Kate Browne, who lives in the West Village neighborhood and said she could smell the gas when she took her daughter to school.

"The emergency services turned up at my daughter's school looking for the leak then," she said.

Commuter Train Temporarily Shut Down

Part of the New York-New Jersey PATH commuter train system, which carries 225,000 passengers a day, was shut down temporarily as a precaution but normal service quickly resumed.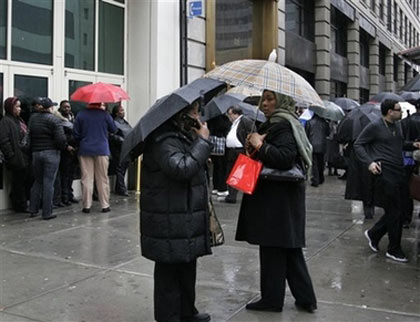 People stand outside of a building on West 34th Street in New York, Jan. 8, 2007. The people had chosen either to leave, or not enter, the building due to a gas odor. Authorities were investigating the source of a mysterious gas-like odor that wafted over a large part of Manhattan from Rockefeller Center through Greenwich Village. [AP]


Several office buildings were evacuated and their air conditioning systems shut down, but city officials soon told building managers that people could return to work.
"There have been no abnormal changes in gas flow in our gas transmission lines," a spokesman for power utility Con Edison said. He declined to answer questions.
Mayor Bloomberg said there had been a small gas leak in lower Manhattan but that was not nearly enough to account for the wide range of the odor. The city was blanketed with low clouds and there was light rain and little wind.
The smell reminded some locals of an incident in October 2005 with the more pleasing scent of pancakes and maple syrup. That mystery also sent an unidentified scent through Manhattan and New Jersey and prompted a multi-agency investigation that proved fruitless.
Natural gas is odorless and a chemical called methyl mercaptan is added to it so that people can detect leaks. The chemical adds an odor similar to rotten eggs or sulfur, which was what people smelled during their morning commute.