BAGHDAD, Iraq - Two of Saddam Hussein's co-defendants were taken from their cells and told they were going to be hanged on the same day the former dictator was executed, their lawyer said Sunday.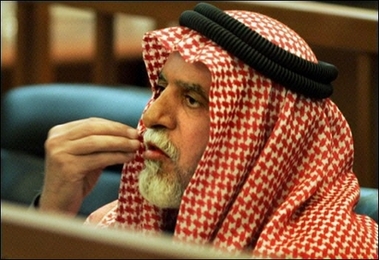 Iraq has not finalised the execution date of Awad Ahmed al-Bandar, seen here in March 2006, a henchmen of ousted dictator Saddam Hussein who was hanged eight days ago in Baghdad. Jordanian attorney Issam Ghazzawi has said the time on death row is "more terrifying" than the execution itself.[AFP]


But the two condemned men still await death as Iraqi officials decide how to avoid the kind of outcry that followed Saddam's hanging on Dec. 30.

Also on Sunday, the US military announced the deaths of five more American troops and at least 14 Iraqis died in bombings and shootings.

Saddam's half brother and former intelligence chief Barzan Ibrahim and the former head of Iraq's Revolutionary Court, Awad Hamed al-Bandar, were sentenced to hang. They were convicted along with Saddam of involvement in the killings of nearly 150 Shiites in the town of Dujail after a 1982 assassination attempt there against Saddam.

Their executions were postponed, however, until after the Muslim holiday of Eid al-Adha which ended five days ago.

Authorities also decided to give Saddam his own "special day," National Security adviser Mouwaffak al-Rubaie said at the time of his execution.

One of Saddam's lawyers who met the deposed leader in his final days told The Associated Press over the weekend that Saddam expected to be put to death and considered it "the most beautiful end" he could have.

Now Iraqi officials must decide how to carry out a second round of executions in the face of worldwide criticism over their handling of Saddam's death. In the final moments of his life, Saddam was taunted by some of those present in the execution chamber as he stood with a noose around his neck.

British Prime Minister Tony Blair criticized the way in which Saddam was executed, his office said Sunday.

"He believes that the manner of the execution was completely wrong, but that should not lead us to forget the crimes that Saddam Hussein committed, including the deaths of hundreds of thousands of Iraqis," a spokeswoman for Blair's office said on condition of anonymity in line with policy.

Blair's likely successor, Treasury chief Gordon Brown, said Saturday that the taunting of Saddam during his execution and the release of an illicitly recorded cell phone video was "deplorable" and "completely unacceptable."

Prime Minister Nouri al-Maliki has ordered an inquiry into the emergence of the unofficial video, on which Saddam is heard exchanging insults with his executioners and shown dying on the gallows.

In Amman, Jordan's Parliament also denounced the execution and asked God to bless Saddam's soul. The speaker of the lower house said Saddam's execution ignored the feelings of Muslims and Arabs because it came just before the start of the religious festival of Eid al-Adha.

While waiting for their own postponed executions, Ibrahim and al-Bandar have been mourning Saddam, their lawyer Issam Ghazawi told the AP. He said he met with the men individually on Wednesday in Baghdad, where they are in US custody.



| | | |
| --- | --- | --- |
| 1 | 2 | |