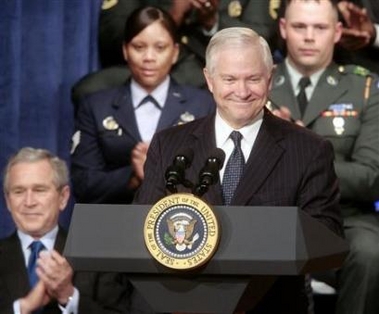 Secretary of Defense Robert Gates smiles moments before speaking after a swearing-in ceremony as President Bush claps, at the Pentagon, December 18, 2006. [Reuters]


WASHINGTON - On his first day as defense secretary, Robert Gates warned Monday that failure in Iraq would be a "calamity" that would haunt the United States for years.

Underscoring eroding security there, a Pentagon report said the number of insurgent and sectarian attacks had risen to the highest level in years.

Sworn into office as the Bush administration moves toward revamping its strategy in Iraq, Gates sketched out an agenda of reversing the downward spiral in Iraq, attending to resurgent violence in Afghanistan and pushing for the military modernization that was a priority of his predecessor, Donald H. Rumsfeld.

Gates said he intends to travel soon to Iraq to hear commanders' assessments of the situation on the ground and to gain their advice - "unvarnished and straight from the shoulder" - on how to adjust US war strategy. He said he would give President Bush honest advice and listen to military commanders - a contrast to critics' complaints that Rumsfeld was an ideologue who paid scant heed to top officers.

"All of us want to find a way to bring America's sons and daughters home again," Gates told a few hundred people in a Pentagon auditorium, including Bush, Cabinet secretaries, members of Congress, the Joint Chiefs of Staff and Gates' wife and mother. Rumsfeld, who handed off his authority earlier Monday in a private event, did not attend the ceremony.

"As the president has made clear," Gates said, "we simply cannot afford to fail in the Middle East. Failure in Iraq at this juncture would be a calamity that would haunt our nation, impair our credibility and endanger Americans for decades to come."

Gates has not tipped his hand on the kinds of changes in Iraq strategy he thinks may be needed. He said that since his Senate confirmation in early December he has held in-depth discussions with Bush on Iraq policy.

More broadly, Gates has said he will keep an open mind about other issues at the Pentagon, including proposals by the heads of the Army and Marine Corps to increase the size of their services to cope with the strains of war. Last week, Gen. Peter Schoomaker, the Army's top commander, warned that his force "will break" without thousands more active duty troops and greater use of the reserves.

Retired Army Brig. Gen. Kevin Ryan, a senior fellow at the Belfer Center for Science and International Affairs at Harvard University, said in an interview Monday that he feels certain Gates will have the latitude within the administration to push for a bigger Army and Marine Corps. "The question is going to be how high" to go, Ryan said.

At the Pentagon ceremony, Bush said he is confident Gates, 63, will bring a fresh perspective to the Iraq problem.

"He knows the stakes in the war on terror," Bush said. "He recognizes this is a long struggle against an enemy unlike any our nation has fought before. He understands that defeating the terrorists and the radicals and the extremists in Iraq and the Middle East is essential to leading toward peace."



| | | |
| --- | --- | --- |
| 1 | 2 | |