BEIJING - North Korea said on Saturday it will not abandon its nuclear programmes until the United States gives up what Pyongyang regards as a "hostile" policy toward it and drops financial restrictions imposed last year.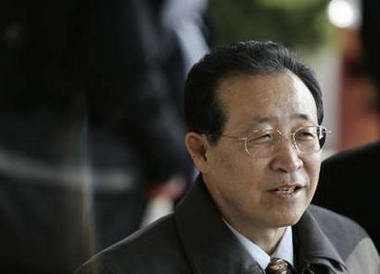 North Korean Vice Foreign Minister Kim Kye-gwan speaks to journalists after his arrival in Beijing ahead of the six-party talks December 16, 2006. [Reuters]


Vice Foreign Minister Kim Kye-gwan said he was not optimistic of a breakthrough at talks aimed at dismantling its nuclear programmes, due to open in Beijing on Monday between the two Koreas, China, the United States, Russia and Japan.

"The United States should change its hostile policy against the DPRK," Xinhua quoted Kim as saying in Pyongyang before flying to China.

"The nuclear issues cannot be resolved until the United States take a co-existence policy," he said.

"I'm not optimistic about prospect of the six-party talks because the United States doesn't change its previous stance," he added, according to Xinhua's English-language report.

While expectations of any breakthrough at the talks are low, US Secretary of State Condoleezza Rice hinted at flexibility, saying the negotiations were part of a process and could not be judged by one session.

Rice insisted that UN sanctions imposed on Pyongyang for an October 9 nuclear weapons test would continue to be enforced even if the six-country talks in Beijing showed progress.

But Rice indicated flexibility on resolving a dispute over what the United States says is Pyongyang's counterfeiting of US dollars and money laundering, which led to North Korean accounts at the Macau-based Banco Delta Asia being frozen.

North Korea cited the US-led financial crackdown as a reason for boycotting nuclear negotiations for more than a year.