NEW YORK - Four of the five officers who together fired 50 gunshots at the car of an unarmed man on his wedding day hadn't completed mandatory firearms training, a group of black officers alleged Thursday.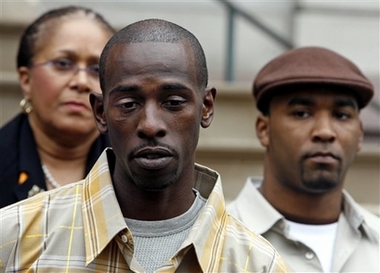 Larenzo Kindred, left, and Jean Nelson, right, who both say they witnessed last month's police shooting of Sean Bell, take turns giving brief statements during a news conference at City Hall Tuesday, Dec. 12, 2006, in New York. [AP]


New York Police Department brass "failed to ensure these officers were properly trained," said Marquez Claxton, a founder of 100 Blacks in Law Enforcement Who Care.

At a news conference outside police headquarters, Claxton alleged that four plainclothes officers involved in the Nov. 25 killing of 23-year-old Sean Bell and the wounding of two companions attended only one of two annual "training cycles" at the police shooting range. The fifth shooter, an unidentified undercover detective, had done both practice sessions, he added.

"When you fail to attend these training cycles, tragedies occur," Claxton said.

Police Commissioner Raymond Kelly said the officers' track record on training was unremarkable.

"Ideally, everyone goes to two cycles, but it's not unusual for officers not to complete both cycles in one year," he said.

The fraternal organization - made up of current and retired law enforcement officers from the NYPD and other agencies - claimed that a preliminary police department report about the shooting contains proof the officers were undertrained.

The victims in the shooting were black; the officers were white, black and Hispanic.

The report lists the last time each officer was at the shooting range: One who fired 31 of the 50 rounds was there April 5; another on March 3; another on Jan. 12; and another on March 21. The undercover detective last took practice on Oct. 4, it says.

The report also notes that none of the officers had ever fired their weapons in the field before the confrontation outside a Queens topless bar where Bell's bachelor party intersected with a police undercover operation targeting suspected prostitution.

Police have said undercover officers believed the victims were going to retrieve a gun, but no weapons were found. The undercover officer, who initiated the gunfire, has said through his lawyer that he saw a fourth, possibly armed man flee the car.

Civilian witnesses supported that claim and identified the fourth person as Jean Nelson, police said. Nelson and the two survivors from the car, Trent Benefeld and Joseph Guzman, have denied he was in or near the car when the gunfire erupted.

The officers are on paid administrative leave while Queens prosecutor Richard Brown determines whether they will face criminal charges.