KHAN YOUNIS, Gaza Strip - Palestinian gunmen ambushed a Hamas commander outside a Gaza courthouse Wednesday, forcing him to his knees and killing him gangland-style in an attack that threatened to push Hamas and Fatah closer to civil war.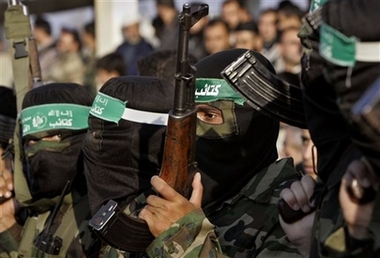 Palestinan masked Hamas militants march during the funeral of Bassam al-Fara, a local Hamas leader, in Khan Younis, in the southern Gaza Strip, Wednesday, Dec. 13, 2006. [AP]


The brazen daylight slaying forced Prime Minister Ismail Haniyeh of Hamas to rush home from a trip abroad and dampened already fading hopes for creating a national unity government and renewing peace talks with Israel.

The attack on the Hamas activist was the latest in a wave of bloodshed that began Monday when unknown assailants gunned down the three young sons of a Fatah-allied security officer in Gaza City. Fatah accused Hamas in those killings; the Islamic militant group denied involvement.

Both sides criticized President Mahmoud Abbas of Fatah for failing to halt the violence.

On Wednesday morning, four gunmen calmly ate breakfast at a food stand outside the courthouse in the southern Gaza town of Khan Younis as they lay in wait for Bassam al-Fara, 30, a judge at the Islamic court, witnesses said.

When al-Fara, who belongs to the largest clan in Khan Younis, emerged from a taxi, three men grabbed him and forced him to his knees, while the fourth shot him, the witnesses said. The attack left his body and the sidewalk riddled with bullet holes. The witnesses declined to be identified, fearing for their safety.

Palestinian security officials set up roadblocks and Hamas militants established checkpoints of their own as they searched for the gunmen.

About 3,000 people turned out for al-Fara's funeral, some firing shots in the air.

Outside the family home, his widow, a black veil covering her face, said her husband had received many death threats, the last on Tuesday, but she would not say from whom.

In a statement faxed to reporters, Hamas accused a Fatah "death squad" of al-Fara's killing. Late Wednesday, Fatah issued a statement saying the killing was a family dispute, and Fatah was not involved.

Fawzi Barhoum, a Hamas spokesman, said al-Fara was a field commander in the Hamas military wing. He pledged to hunt down the killers. "Hamas is not going to forget the blood of its members," Barhoum said.

Fatah spokesman Tawfik Abu Khoussa rejected the accusations. "We condemn all acts of anarchy whatever may be behind them, and we call on the brothers in Hamas to stop firing accusations before the investigation," he said.

Haniyeh, who was in Sudan, said he would return to Gaza on Thursday, cutting short a trip to Arab and Muslim countries including Iran and Syria. Haniyeh left Gaza on Nov. 28 on what was billed as a monthlong trip.



| | | |
| --- | --- | --- |
| 1 | 2 | |