WASHINGTON - Saudi Arabia has told the Bush administration that it might provide financial backing to Iraqi Sunnis in a war against Iraqi Shiites if the United States withdraws from Iraq, The New York Times reported on Tuesday, citing American and Arab diplomats.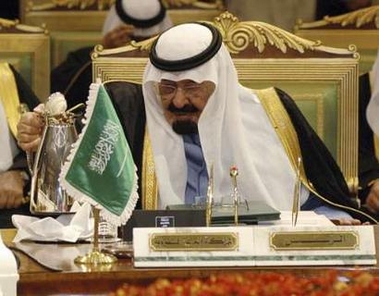 Saudi Arabia's King Abdullah attends the opening ceremony of the Gulf Cooperation Council Summit in Riyadh December 9, 2006. Saudi Arabia called on Gulf Arab leaders meeting in Riyadh on Saturday to set aside their differences to make economic union a reality in the energy-rich region. [Reuters]


King Abdullah of Saudi Arabia delivered that message to Dick Cheney during the US vice president's brief visit last month to Riyadh, the newspaper said, citing the officials it did not name.

Cheney traveled to Saudi Arabia, a close US ally and the world's top oil exporter, to discuss Iraq and how to break the deadlock in the Arab-Israeli conflict.

During the visit, King Abdullah expressed strong opposition to diplomatic talks between the United States and Iran, which is largely Shi'ite, the Times said.

The Saudi leader also pushed Washington to encourage the resumption of peace talks between Israel and the Palestinians, the newspaper reported, citing senior officials of US President George W. Bush's administration.

The White House could not immediately be reached to comment on the report.

Until now Saudi officials have promised Washington that they would refrain from aiding Iraq's Sunni insurgency. But that pledge holds only as long as the United States remains in Iraq, The New York Times reported.

The Saudis have argued strenuously against a US troop withdrawal from Iraq, voicing fears that Iraq's minority Sunni population would be massacred, the newspaper said.

The newspaper cited US officials as saying that those fears have heightened amid the rising pressure in the United States for American troops to withdraw and calls for direct talks with Iran.

The Saudi ambassador to the United States Prince Turki al-Faisal told his staff on Monday that he had resigned. His resignation emerged just days after Turki he fired a consultant who wrote an opinion piece in The Washington Post suggesting that the Saudis would back Iraq's Muslim Sunnis in the event of a wider sectarian conflict.

The article by a Saudi government security adviser, Nawaf Obaid, said the oil-rich desert kingdom would intervene with funding and weaponry to prevent Shi'ite militias from attacking Iraq's Sunnis. It also suggested Saudi Arabia could bring down world oil prices to squeeze Iran's Shi'ite rulers.