WASHINGTON - US President Bush, facing intense pressure to craft a new blueprint for the Iraq war, said Tuesday the US is holding fast to its objectives and commitment. The White House said he knows the general direction he wants to move US policy but won't announce it until next month.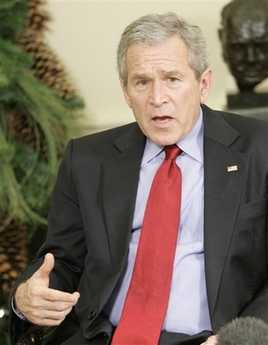 President Bush gestures during his meeting with the Iraq Vice President Tariq al-Hashemi, not shown, in the Oval Office of the White House in Washington, Tuesday, Dec. 12, 2006. [AP]


Bush gave no hints of a change in direction after a meeting with Iraq's Sunni Vice President Tariq al-Hashemi, one of several Iraqi powerbrokers he's recently hosted in the Oval Office.
"Our objective is to help the Iraqi government deal with the extremists and the killers, and support the vast majority of Iraqis who are reasonable, who want peace," Bush said.
"We want to help your government be effective," he said. "We want your government to live up to its words and ideals."
Bush met for 25 minutes with al-Hashemi, who has been linked to a behind-the-scenes effort to form a new ruling bloc that could topple the fragile Iraqi government led by Nouri al-Maliki.
The White House would not say whether Bush and al-Hashemi talked about the movement afoot to form a new ruling coalition that would exclude anti-American Shiite cleric Muqtada al-Sadr and radical Sunni Arabs. Bush has called al-Maliki the "right guy" for Iraq, but al-Maliki is dependent on al-Sadr for political support.
White House press secretary Tony Snow said the president had expected to make a speech before Christmas to announce his new strategy for Iraq but still had questions and was not yet ready to make all the decisions he needed to make.
"The president generally knows what direction he wants to move in, but there are very practical things that need to be dealt with," Snow said. "This is not a sign of trouble. This is a sign of determination on the part of the president."
Democrats didn't see it that way.
"It has been six weeks since the American people demanded change in Iraq," said Harry Reid, who will become Senate majority leader. "In that time, Iraq has descended further toward all-out civil war and all the president has done is fire Donald Rumsfeld and conduct a listening tour."
"Talking to the same people he should have talked to four years ago does not relieve the president of the need to demonstrate leadership and change his policy now," said Reid, of Nevada.
Bush began his day by having breakfast with his new defense secretary, Robert Gates, who plans to travel to the region to talk with military commanders shortly after he is sworn in next Monday.
Gates also joined Bush in a secure video conference with Rumsfeld; the chairman of the Joint Chiefs of Staff, Gen. Peter Pace, and Gen. John Abizaid, the top US commander in the Middle East. Participating from Iraq was Gen. George Casey, the chief US commander in Iraq.
Secretary of State Condoleezza Rice said Bush had decided to take more time partly to give Gates time to settle into his new job at the Pentagon and help develop the new policy. She said the president was still considering advice from administration officials and commanders in Iraq and was studying the report issued last week by the bipartisan Iraq Study Group.
| | | |
| --- | --- | --- |
| 1 | 2 | |