WASHINGTON - President Bush, eager to show he can take advice on Iraq, embarked on a round of public outreach Monday and promised Americans the unpopular war eventually would make their lives safer.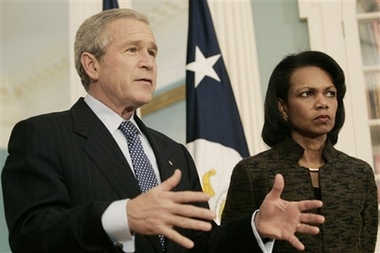 President Bush, left, accompanied by Secretary Of State Condoleezza Rice, gestures while speaking to the media following their meeting at the State Department in Washington, Monday, Dec. 11, 2006. [AP]


Preparing for a major speech on the war's future, Bush took the short trip to the State Department to review options with advisers there, then hosted a handful of experts on Iraq policy in the Oval Office.

"Like most Americans, this administration wants to succeed in Iraq because we understand success in Iraq would help protect the United States in the long run," Bush said after his State Department briefing.

The White House remained tightlipped on how Bush is likely to change strategy, saying the president is awaiting reports from his national security team before announcing a plan to the nation. That is expected to happen before Christmas.

The president said his aim is to coordinate advice from his diplomatic and military advisers "so that when I do speak to the American people, they will know that I've listened to all aspects of government."

Indeed, the administration's "new way forward" includes a visible attempt to show an openness to ideas.

On Tuesday, Bush will meet via video conference with senior military commanders, then talk with Iraqi Vice President Tariq al-Hashemi in the Oval Office. On Wednesday, he will confer with senior defense officials at the Pentagon.

Since the election, lawmakers of both parties have been to the White House to discuss the war with Bush.

White House spokesman Tony Snow said he saw no "gigantic difference" in the pace of public strategy sessions on the president's schedule. But he added that Bush's travels to the State Department and the Pentagon sent a message.

| | | |
| --- | --- | --- |
| 1 | 2 | |