STOCKHOLM, Sweden - Economist Muhammad Yunus accepted the Nobel Peace Prize on Sunday for his breakthrough program to lift the poor through tiny loans, saying he hoped the award would inspire "bold initiatives" to eradicate a problem at the root of terrorism.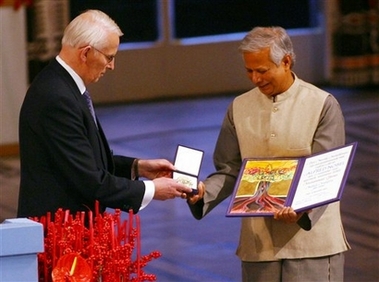 Nobel Peace Prize winner Muhammad Yunus, right, receives his medal and diploma from Nobel Committee Chairman Ole Danbolt Mjoes at City Hall in Oslo, Norway Sunday Dec. 10, 2006. Yunus said he hoped the award would inspire 'bold initiatives' to fight poverty and eradicate the root causes of terrorism. [AP]


Yunus, a 66-year-old Bangladeshi, shared the award with his Grameen Bank, which for more than two decades has helped impoverished people start businesses by providing small, usually unsecured loans known as microcredit.

"We must address the root causes of terrorism to end it for all time," Yunus told hundreds of guests at City Hall in Oslo, Norway. "I believe putting resources into improving the lives of poor people is a better strategy than spending it on guns."

In his speech, Yunus also warned about the potential costs of globalization without help for the world's poor.

"To me, globalization is like a hundred-lane highway crisscrossing the world," Yunus said. "If it is a free-for-all highway, its lanes will be taken over by the giant trucks from powerful economies. Bangladeshi rickshaws will be thrown off the highway."

"Rule of 'strongest takes it all' must be replaced by rules that ensure that the poorest have a place and piece of the action, without being elbowed out by the strong," he said.

The Nobel laureates for literature, physics, economics and chemistry accepted their awards Sunday at a ceremony in Stockholm.

The Nobel Prizes, announced in October, are always presented in the two Scandinavian capitals on Dec. 10 to mark the anniversary of the 1896 death of their creator, Alfred Nobel. The Swedish industrialist, who invented dynamite, stipulated the dual ceremonies in his will. The awards, first handed out in 1901, carry $1.4 million in prize money.

The literature prize went to Orhan Pamuk, a Turkish writer accused of insulting his country, while six Americans swept the science and economics prizes. Their findings cemented the "big bang" theory, broke new ground in genetic research and explored the relationship between inflation and unemployment.

Yunus is the first Nobel winner from Bangladesh, an impoverished South Asian country on the Bay of Bengal. Nobel Committee chairman Ole Danbolt Mjoes said the award was partially intended as an outstretched hand to the Islamic world in an era when Muslims are often demonized because of terrorism.



| | | |
| --- | --- | --- |
| 1 | 2 | |