HOUSTON - The orbiting Discovery crew started the meticulous inspection of the shuttle's heat shield on Sunday, looking for any possible damage from liftoff.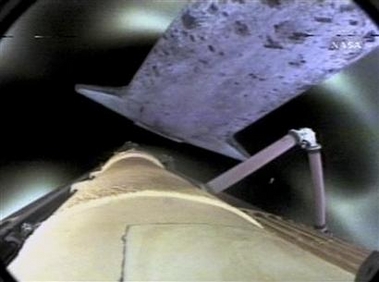 The space shuttle Discovery is seen in this televised view from a camera mounted on the external fuel tank as it separates from the orbiter after launch from the Kennedy Space Center in Florida December 9, 2006. [Reuters]


Mission specialist Nicholas Patrick maneuvered the shuttle's 50-foot robotic arm and similarly long boom with cameras and sensors as the exam began on the spacecraft's right wing.

"Last we heard, they haven't found anything," said NASA spokeswoman Brandi Dean, as the crew prepared to scan the left wing - the final step in the inspection.

The thorough sweep included the wings and nose cap for chips and other damage from foam, a procedure made mandatory after the deadly Columbia accident in 2003. The survey began 3:08 p.m. and was expected to last 5 1/2 hours.

During tests late Saturday, the robotic arm's latching mechanism was not working automatically, so Patrick manually ordered the arm to grasp the boom. Otherwise, the inspection was without incident. Engineers are examining the camera images in real time and also will review them in greater detail later on.

Preliminary radar reports from Discovery's Saturday night launch also showed nothing of concern, NASA spokesman Kyle Herring said.

Meanwhile, the other crew members checked on the spacesuits that will be used during the mission's three spacewalks.

Discovery fired its engines Sunday to raise its altitude to 216 miles above Earth, nearly level with the international space station, where it will dock Monday afternoon.

Then the real work begins.

| | | |
| --- | --- | --- |
| 1 | 2 | |