TOKYO - Residents along Japan's Pacific coast were told to flee an impending tsunami after a powerful earthquake with preliminary magnitude 8.1 hit the Kuril islands north of Japan late Wednesday.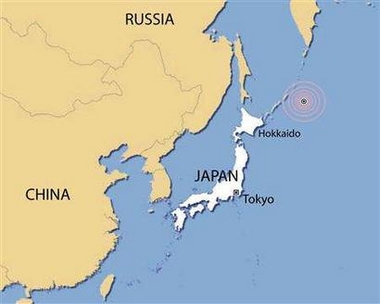 An 8.1 quake was recorded in the Kurile islands on Wednesday, and a tsunami warning issued for eastern Hokkaido, Japan's northernmost island, NHK public television said. [Reuters]


The quake struck about 390 kilometers (240 miles) east of the Etorofu islands, north of Japan, at 1115 GMT, according to Japan's Meteorological Agency, which issued a tsunami warning 15 minutes later.
Related readings:


Strong quake hits Hawaii


Samoa quake evokes Tsunami alert


New Zealanders offered message tsunami warnings


Quake off eastern Indonesia, no tsunami warning


'Tsunami warning system so-so'

A tsunami of about 2 meters (6.5 feet) or more could hit the Pacific coast of Japan's northernmost island of Hokkaido and main island of Honshu after 1210 GMT, the agency warned.

Live video from Nemuro, a port on Hokkaido, showed calm seas and there were no immediate reports of any tsunami there. There were also no immediate reports of injuries or damage caused by the quake, which residents said could barely be felt in Japan.

Authorities have ordered residents living along the northern and eastern coasts of Hokkaido to evacuate to higher ground, according to public broadcaster NHK.

In the city of Kushiro on Hokkaido island, fire department and city officials were urging residents to move to safety, city official Masatoshi Sato said.

Keiichi Kimura, a Hokkaido Prefectural (state) police officer, said there were no immediate reports of injuries or damage from the quake. Railway officials ordered trains on Hokkaido to stop at nearby stations as a precaution, NHK said.

| | | |
| --- | --- | --- |
| 1 | 2 | |