NEW YORK - While new voting machines confounded some poll workers, reports of dirty tricks and voter intimidation surfaced across the United States on Tuesday, prompting federal investigations in at least two states.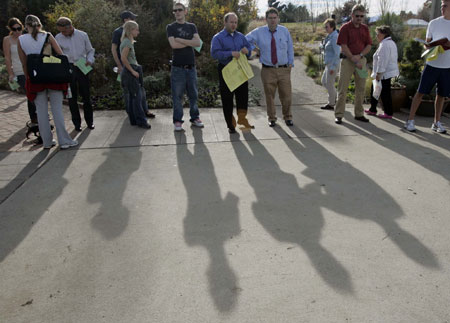 Voters cast long shadows after waiting to vote in the US midterm elections at the Denver Botanic Gardens in Denver, Colorado November 7, 2006. [Reuters]


In Virginia, election officials contacted the FBI over complaints of voter intimidation in the hard-fought race between Republican Sen. George Allen and Democrat Jim Webb. Jean Jensen, secretary of the Board of Elections, said her office received reports of phone calls apparently encouraging voters to stay home on election day. Other calls directed voters to the wrong polling place.
In Indiana, the FBI was investigating allegations that a Democratic volunteer at a Monroe County polling site was found with unprocessed absentee ballots.
Other states reported voter intimidation problems and dirty tricks.
In Arizona, three men, one of them armed, stopped Hispanic voters and questioned them outside a Tucson polling place, according to voting monitors for the Mexican American Legal Defense and Educational Fund, which photographed the incidents and reported them to the FBI.
In Maryland, sample ballots suggesting Republican Gov. Robert L. Ehrlich and Senate candidate Michael Steele were handed out by people bused in from out of state. Democrats outnumber Republicans in Maryland by nearly 2-to-1.
An Ehrlich spokeswoman said the fliers were meant to show the candidates had the support of some state Democrats. They were paid for by the campaigns of Ehrlich, Steele and the Republican Party.
More than 80 per cent of the nation's voters were expected to cast some type of electronic ballot Tuesday, which was the deadline for major reforms mandated by the federal Help America Vote Act, passed by Congress to prevent a rerun of the 2000 presidential election debacle. That year, the results of presidential balloting were delayed for weeks as the two parties fought over which votes would be counted in Florida, the swing state in the election.
This year, Democrats have accused Republicans of sponsoring automated "robo-calls" that have infuriated voters. The recorded calls, which reached a fever pitch in the days leading up to the election, automatically dial and re-redial, promoting or trashing a candidate.
Republicans have denied responsibility. Some voters have reported being awakened in the middle of the night by such calls, and said that after they hung up, the phone rang again. Federal rules bar election phone solicitations after 9 p.m.
In some states, the effort to improve the integrity of the election system got off to a shaky start. Long lines formed, prompting appeals to judges to keep the polls open longer.

| | | |
| --- | --- | --- |
| 1 | 2 | |