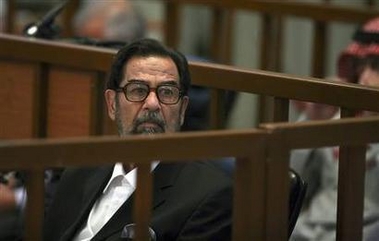 Former Iraqi leader Saddam Hussein listens to the proceedings during his ongoing trial inside the heavily fortified Green Zone in Baghdad, Iraq October 31, 2006. [Reuters]


Amman, Jordan - Defense lawyers called Friday for judges to postpone their verdict in Saddam Hussein's Dujail trial -- expected Sunday -- and allow them to present final arguments in defense of the deposed president.
Special coverage:
Iraq after War

Related readings:
Iraq cancels leave before Saddam verdict
Saddam lawyer warns against execution
Rumsfeld OKs hike in Iraqi forces
Bush pledges support for Iraq PM
US death toll in Iraq worst in a year
The call came in a letter addressed to the presiding judge of the Baghdad court that has been trying Saddam and his seven co-defendants on charges of crimes against humanity for the past 13 months. A copy of the letter was given to The Associated Press in Amman.

The 10-member defense team, including former US Attorney General Ramsey Clark, wrote that it would be premature to deliver the verdict on Sunday "because the court did not receive the final defense statements yet."

The letter asked the judge for permission to "read the defense final statements and for the court to set another date for the defense argument in not less than 60 days' time."

It was not possible to confirm that the judges had received the letter on Friday.

When the trial adjourned on July 27 for the judges to consider their verdict, Saddam was represented by court-appointed lawyers because his own counsel had boycotted the trial since the June killing of their colleague Khamis al-Obeidi, the third defense attorney to be slain during the trial.

Saddam and seven former members of his regime have pleaded innocent to the killing of 148 Muslim Shiites from the northern Iraqi town of Dujail in 1982. The inhabitants were shot after an attempt to assassinate Saddam as he passed through the town.

He is widely expected to be convicted and condemned to death.