Israeli troops shot dead two women acting as human shields between soldiers and gunmen holed up in a mosque, and bombarded the Gaza Strip with air strikes on Friday, witnesses said.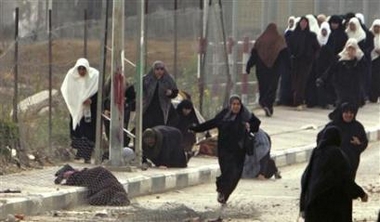 A wounded Palestinian woman lies on the ground as others run for cover after an Israeli tank opened fire at them at Beit Hanoun town in northern Gaza strip, November 3, 2006. [Reuters]

During one of its bloodiest assaults since it withdrew in 2005 after 38 years of military rule, Israel killed at least 17 Palestinians in Gaza on Friday, about half of them civilians.
In the northern Gaza town of Beit Hanoun about 50 veiled women, answering an appeal broadcast on radio, marched on a mosque where about 60 Palestinian gunmen were sheltering, to act as cover against Israeli troops.
Reuters television footage showed Israeli forces opening fire and one of the women fall dead. At least 10 were wounded. The Israeli army said it had fired at armed Palestinians and was investigating whether it had also shot the women.
The gunmen, including some from the Islamist group Hamas which heads the Palestinian government, managed to flee the Beit Hanoun mosque. Moments later, its roof collapsed.
"We are very cautious about the issue of harming anyone uninvolved," a senior Israeli military source said of the mosque shootings. "I think overall the operation is very successful. We will check to see if there was something wrong."
It was the third day of a ground assault on Beit Hanoun, the largest operation Israel has conducted in the Gaza Strip in months and designed to put a stop to militants firing homemade rockets into Israel.
"The president demands from the U.N. Security Council to immediately intervene to stop the Israeli aggression against the Gaza Strip and the massacres Israel is committing for the third consecutive day," Mahmoud Abbas's office said in a statement.
Israeli air strikes in the northern town of Beit Lahiya killed a militant, two rescue worker and another two Palestinian civilians, hospital and security sources said.
One of the missiles slammed into a group of militants who were planting a bomb near Israeli troops in the area, Palestinian witnesses said. The army said its attack was aimed at militants who fired rockets into the Jewish state on Friday.
HAMAS VOWS REVENGE
An Israeli air strike also killed a Palestinian, whose identity was unclear, in Beit Hanoun. The Israeli army said it had targeted a group of Palestinian gunmen.
A member of a Hamas-led security force injured in an Israeli strike against a car carrying men from the group in the southern Gaza town of Rafah died of his wounds, hospital officials said. The army said the attack had been aimed at Hamas militants.
Militants from the Islamist group fired two rockets into southern Israel on Friday, causing no casualties.
"Bombardment for bombardment and blood for blood," Hamas said in a statement.
Palestinian Prime Minister Ismail Haniyeh, a Hamas leader, expressed defiance and described Israel's occupation of Palestinian territories as an act of "blind terror."
The army began a huge assault against militants in Gaza after several of them abducted an Israeli soldier in a raid inside the Jewish state in June.
Since the start of the offensive four months ago more than 280 Palestinians have been killed, about half of them civilians. Three Israeli soldiers have been killed.
Israel's Gaza offensive has further weakened any chance of peace talks, already minimal since Hamas won elections. Hamas is officially sworn to Israel's destruction.
In the West Bank, Israeli troops shot dead a Palestinian during a raid to detain militants. Elsewhere in the territory, soldiers killed a Palestinian during a clash with teenagers who threw stones and bombs at troops, doctors said.
(Additional reporting by Corinne Heller in Jerusalem, Atef Saad in Nablus, Said Ayyad in Bethlehem and Mohammed Assadi in Ramallah)