BAGHDAD, Iraq - A blood-drenched October has passed into a violent early November as a motorcycle rigged with explosives ripped through a crowded Shiite market in Sadr City on Thursday and suspected Sunni insurgent gunmen killed a Shiite dean of Baghdad University.
The attacks showed no signs of abating after at least 1,272 Iraqis were killed in the first full month of autumn and the 43rd month of the US bid to quell violence and build democracy in Iraq, according to an Associated Press count. The figure is a minimum since many deaths go unreported, but the total is higher than any other month since the AP began keeping track in May 2005.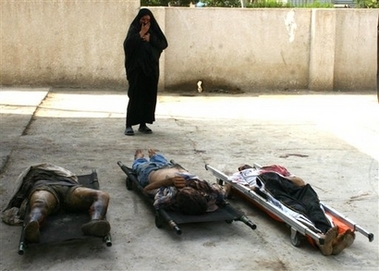 A woman reacts as she looks at the body of her son-in-law, right, in a hospital yard in Baqouba, 60 kilometers (35 miles) northeast of Baghdad, Thursday November 2, 2006. [AP]
AP statistics also showed nearly twice as many Iraqi security forces died last month as US forces - 194 versus 106. The Interior Ministry said at least 119 Iraqi policemen were killed.
With shootings, bombings and abductions tearing apart Iraq three years after the US-led invasion, the war in Iraq is the top issue for voters before next week's US congressional elections.
The Iraqi president, visiting Paris, said Thursday all American forces could be gone from Iraq within three years.
"Two to three years are needed to build our security forces and say bye-bye to our friends," Jalal Talabani said. The president, a Kurd whose ethnic group owes its relative prosperity and independence in northern Iraq to the US invasion, has repeatedly predicted an earlier departure for American forces than US generals have.
Asked about Talabani's remarks, Pentagon spokesman, Lt. Col. Todd Vician, said: "All parties agree on the desire to hand over control for security to the Iraqis as soon as possible."
Democratic Sens. Carl Levin and Jack Reed said their party will attempt to pass legislation to begin bringing some troops home immediately.
"We want to end the open-ended commitment of our troops, and we want to begin, at least by the end of the year, the reduction of American forces," Levin said.
At least 49 people were killed or found dead throughout Iraq on Thursday, including the seven killed when the motorcycle blew up in a crowded market in Baghdad's Sadr City district. At least 45 people were wounded in that attack, many of them seriously, police said.
It was the first bombing in Sadr City since Prime Minister Nouri al-Maliki ordered the lifting Tuesday of the week-old U.S.-Iraqi army security blockade on the sprawling Shiite slum of 2.5 million people.
Police Lt. Thaer Mahmoud said the explosives went off at 4 p.m., usually the busiest time at Mereidi market, one of the neighborhood's most popular commercial centers.
| | | |
| --- | --- | --- |
| 1 | 2 | |