SEOUL - UN Secretary General-designate Ban Ki-moon will visit China on Friday for talks on ending North Korea's nuclear weapons program and accelerating moves by UN members to sanction Pyongyang for conducting a nuclear test.[Full coverage on N.Korea nuclear issue]
Ban, South Korea's foreign minister who will take over at the United Nations in January, will also visit Russia, Britain and France soon, South Korean officials said on Monday.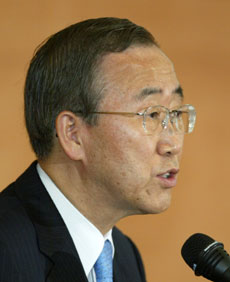 South Korea's Foreign Minister Ban Ki-moon answers questions at a joint news conference with U.S. Secretary of State Condoleezza Rice in Seoul October 19, 2006. [Reuters]
Ban's trip to China will be in his capacity as foreign minister, one of the officials said.
Intense diplomacy last week has left world capitals still unsure as to whether North Korea will conduct a second nuclear test or return to stalled six-country talks on its nuclear programs.
News reports had raised hopes that tension was easing after North Korean leader Kim Jong-il was quoted as telling Chinese envoy Tang Jiaxuan that he planned no further tests following the first one on October 9 in defiance of international warnings.
But US Secretary of State Condoleezza Rice, heading home after a whirlwind tour of Tokyo, Seoul, Beijing and Moscow, cast doubt on the reports about Kim, saying Pyongyang was bent on escalating the crisis.
Japanese Chief Cabinet Secretary Yasuhisa Shiozaki told reporters on Monday that China had briefed Tokyo on the discussions between Kim and Tang but declined to comment on details because of protocol.
He said Japan would closely coordinate with China and urge North Korea to abide by the UN Security Council resolution and return to the six-party talks "unconditionally." The resolution mandates arms and economic sanctions against the North.
Pyongyang has rejected the move, saying it amounted to a declaration of war masterminded by the United States.
Some officials in Seoul were also guarded about North Korea's intentions regarding a second test.
"The prevailing assessment is that we need to be cautious about reported comments by Kim Jong-il," a South Korean official said on the condition of anonymity.
But a former South Korean foreign minister and ambassador to the United States, Han Sung-joo, was more optimistic about the resumption of the talks, saying a fresh round could materialize in less than a month.
"The fact that they are speaking about conditions may be part of trying to come up with justification for the return to the six-party talks," Han said on MBC radio.
A South Korean media report had said Kim had also told Tang that North Korean negotiators would be back at the table as soon as Washington lifts a financial crackdown against his country.