APEX, N.C. - More than 17,000 people were urged to stay out of their homes until at least Saturday after a thunderous series of explosions and a raging fire at a hazardous-waste disposal plant released a plume of thick black smoke and a yellow cloud of noxious gases.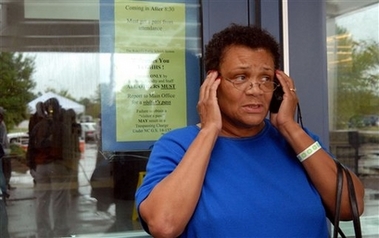 Carolyn Hedgepeth, 63, calls Wake County Pet Care Friday, Oct. 6, 2006, to ask them to check on her dog, Winston, who Hedgepeth left at her home in Apex , N.Y., when she evacuated Thursday night after hearing the explosions at a hazardous waste plant. . Hedgepeth is standing outside the Green Hope High School evacuation center in Cary, N.C. where she will stay until she is allowed to return home. [Reuters]
No employees were believed to have been inside the EQ Industrial Services plant when the blasts rocked it late Thursday. Officials said 44 people went to emergency rooms, most complaining of breathing problems, but nearly all had been released by midday.
A timely rainstorm helped scrub the air, but Mayor Keith Weatherly said none of the evacuated residents would be allowed to return home until the blaze is extinguished, which was expected to be Saturday at the earliest.
"We want to err on the side of safety and not send anybody home," Apex Fire Chief Mark Haraway said Friday.
Three significant fires burned Friday night, all under the collapsed building that housed EQ Industrial Services.
The plant handles a variety of industrial wastes, includes paints, solvents, pesticides and weed killer.
Because of the dangers in that mix, firefighters waited for daybreak to determine how to attack the blaze, and used a video camera to get a look at the burning building. Schools were closed, along with downtown Apex.
"We weren't talking about the town bakery," Apex Police Chief Jack Lewis said of the seriousness of the evacuation. He said that he was nauseated all night and that several of the first police officers to arrive at the fire required medical care for respiratory problems, chest pains and nausea.
The cause of the blaze was not immediately known.
"Because of the many different types of waste that we bring in, it's very difficult to determine the cause of the fire," EQ spokesman Robert Doyle said.
About 25 employees work at the plant, but all had left the building by 7 p.m. Thursday, he said.
State Department of Environment and Natural Resources officials said Friday afternoon their tests "had not detected anything out of the ordinary in the air." The state also determined that water supplies downstream from the fire appeared to be safe, though they were still conducting additional tests.
In March, the state fined EQ $32,000 for six violations at the plant, including failing to take steps to "minimize the possibility of a sudden or non-sudden release of hazardous waste ... which could threaten human health or the environment."
Doyle cautioned the violations might not have had anything to do with the fire, and the state said the company had passed a required inspection as recently as Sept. 28-29.
Last year, a similar fire at one of the company's plants in Romulus, Mich., drove about 2,000 people from their homes and sent at least 32 people to hospitals for treatment.
An investigation is still active, said Robert McCann, a spokesman for the Michigan Department of Environmental Quality. He said in an e-mail that extensive damage from the fire had made it difficult to determine a cause and whether there were any violations at the plant.
It was unclear how many people fled, but several hundred took shelter at schools, while others probably stayed with friends or at hotels, Weatherly said.
Beth Roach's family left their home about two miles from the plant around 3 a.m.
"The bad part was that we didn't really know what was going on," she said. "Ultimately, that's what made our decision to leave."
Scott Maris, the company's vice president of regulatory affairs, said EQ would reimburse residents for expenses incurred during the evacuation.
"We're in grief to have created this inconvenience and misfortune for folks," Maris said. "We are doing everything we can to make it right in the community."