NICKEL MINES, Pa. - A milk-truck driver carrying three guns and a childhood grudge stormed a one-room Amish schoolhouse Monday, sent the boys and adults outside, barricaded the doors with two-by-fours, and then opened fire on a dozen girls, killing three of them before committing suicide.
At least seven other victims were critically wounded, authorities said.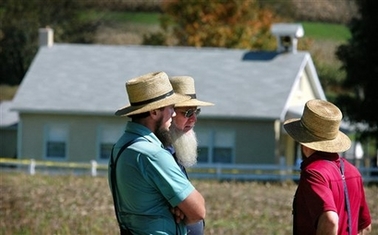 Neighbors gather near a schoolhouse, seen in background, Monday, October 2, 2006, where police say a gunman shot several people in Nickel Mines, Pa. A 32-year-old milk truck driver took about a dozen girls hostage in the one-room Amish schoolhouse Monday, barricaded the doors with boards and killed at least three girls and apparently himself, authorities said. [AP]
It was the nation's third deadly school shooting in less than a week, and it sent shock waves through Lancaster County's bucolic Amish country, a picturesque landscape of horse-drawn buggies, green pastures and neat-as-a-pin farms, where violent crime is virtually nonexistent.
Most of the victims had been shot execution-style at point-blank range after being lined up along the chalkboard, their feet bound with wire and plastic ties, authorities said.
"This is a horrendous, horrific incident for the Amish community. They're solid citizens in the community. They're good people. They don't deserve ... no one deserves this," State Police Commissioner Jeffrey B. Miller said.
The gunman, Charles Carl Roberts IV, a 32-year-old truck driver from the nearby town of Bart, was bent on killing young girls as a way of "acting out in revenge for something that happened 20 years ago" when he was a boy, Miller said.
Miller refused to say what that long-ago hurt was.
Roberts was not Amish and appeared to have nothing against the Amish community, Miller said. Instead, Miller said, he apparently picked the school because it was close by, there were girls there, and it had little or no security.
The attack bore similarities to a deadly school shooting last week in Bailey, Colo., and authorities there raised the possibility that the Pennsylvania attack was a copycat crime.
Miller said Roberts was apparently preparing for a long siege, arming himself with a 9mm semiautomatic pistol, a 12-gauge shotgun and a rifle, along with a bag of about 600 rounds of ammunition, two cans of smokeless powder, two knives and a stun gun on his belt. He also had rolls of tape, various tools and a change of clothes.
Roberts had left several rambling notes to his wife and three children that Miller said were "along the lines of suicide notes." The gunman also called his wife during the siege by cell phone to tell her he was getting even for some long-ago offense, according to Miller.
From the suicide notes and telephone calls, it was clear Roberts was "angry at life, he was angry at God," Miller said. And it was clear from interviews with his co-workers at the dairy that his mood had darkened in recent days and he had stopped chatting and joking around with fellow employees and customers, the officer said.
Miller said that Roberts had been scheduled to take a random drug test on Monday. But the officer said it was not clear what role that may have played in the attack.
Miller said investigators were looking into the possibility the attack may have been related to the death of one of Roberts' own children. According to an obituary, Roberts and his wife, Marie, lost a daughter shortly after she was born in 1997.
As rescue workers and investigators tromped over the surrounding farmland, looking for evidence around this tiny village about 55 miles west of Philadelphia, dozens of people in traditional plain Amish clothing watched ¡ª the men in light-colored shirts, dark pants and broad-brimmed straw farmer's hats, the women in bonnets and long dark dresses.
Reporters were kept away from the school after the shooting, and the Amish were reluctant to speak with the media, as is their custom.
The victims were members of the Old Order Amish. Lancaster County is home to some 20,000 Old Order Amish, who eschew automobiles, electricity, computers, fancy clothes and most other modern conveniences, live among their own people, and typically speak a German dialect known as Pennsylvania Dutch.
Bob Allen, a clerk at a bookstore in the Amish country tourist town of Intercourse, said residents see the area as being safe and the Amish as peaceful people. "It just goes to show there's no safe place. There's really no such thing," he said.
The shooting took place at the one-room West Nickel Mines Amish School, a neat white building set amid green fields, with a square white horse fence around the schoolyard. The school had about 25 to 30 students, ages 6 to 13.
According to investigators, Roberts walked his children to the school bus stop, then backed his truck up to the Amish school, unloaded his weapons and several pieces of lumber, and walked in around 10 a.m. He released about 15 boys, a pregnant woman and three women with babies, Miller said.
He barricaded the doors with two-by-fours and two-by-sixes nailed into place, piled-up desks and flexible plastic ties; made the remaining girls line up along a blackboard; and tied their feet together with wire ties and plastic ties, Miller said.
The teacher and another adult at the school fled to a farmhouse nearby, and someone there called 911 to report a gunman holding students hostage.
Roberts apparently called his wife around 11 a.m., saying he was taking revenge for an old grudge, Miller said. Moments later, Roberts told a dispatcher he would open fire on the children if police didn't back away from the building. Within seconds, troopers heard gunfire. They smashed the windows to get inside, and found his body.
Miller said he had no immediate evidence that the victims were sexually assaulted.
Killed were two students, and a female teacher's aide who was 15 or 16 years old, authorities said.
No one answered the door at Roberts' small, one-story home on Tuesday afternoon. Children's toys were strewn on the porch and in the yard.
A family spokesman, Dwight LeFever, read a short statement from Roberts' wife that said, in part, "Our hearts are broken, our lives are shattered, and we grieve for the innocence and lives that were lost today. Above all, please pray for the families who lost children and please pray too for our family and children."
The shootings were disturbingly similar to an attack last week at Platte Canyon High School in Bailey, Colo., where a man singled out several girls as hostages in a school classroom and then killed one of them and himself. Authorities said the man in Colorado sexually molested the girls.
"If this is some kind of a copycat, it's horrible and of concern to everybody, all law enforcement," said Monte Gore, undersheriff of Park County, Colo.
Miller, though, said he believed the Pennsylvania attack was not a copycat crime: "I really believe this was about this individual and what was going on inside his head."
On Friday, a school principal was shot to death in Cazenovia, Wis. A 15-year-old student, described as upset over a reprimand, was charged with murder.
The Pennsylvania attack was the deadliest school shooting since a teenager went on a rampage last year on an Indian reservation in Red Lake, Minn., killing 10 people in all, including five students, a teacher, a security guard and himself.
Nationwide, the 1999 Columbine High School massacre in Littleton, Colo., remains the deadliest school shooting, with 15 dead, including the two teenage gunmen.
In Pennsylvania's insular Amish country, the outer world has intruded on occasion. In 1999, two Amish men were sent to jail for buying cocaine from a motorcycle gang and selling it to young people in their community.
There were four murders in Lancaster County in 2005, including the killings of a non-Amish couple were shot to death in their Lititz home in November by their daughter's 18-year-old boyfriend.
Kenneth Trump, president of the National School Safety and Security Services consulting firm in Cleveland, said the Colorado and Pennsylvania crimes underscore the lesson that no school is automatically safe from an attack.
"These incidents can happen to a one-classroom schoolhouse to a large urban school," he said. "The only thing that scares me more than an armed intruder in a school is school and safety officials who believe it can't happen here."