Israel pulls out from Lebanon
(AP)
Updated: 2006-10-01 09:15
JERUSALEM - Israel withdrew the last of its troops from Lebanon early Sunday, the army said, fulfilling a key condition of the U.N. cease-fire that ended a monthlong war with Hezbollah guerrillas.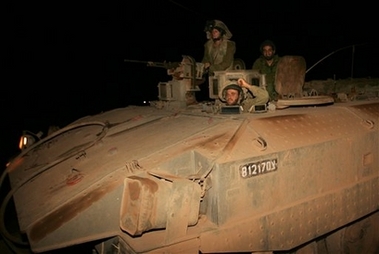 Israeli soldiers ride on top of an armored vehicle after crossing the border from southern Lebanon into northern Israel, early Sunday, Oct. 1, 2006. The Israeli army expects to complete its withdrawal from Lebanon by Sunday evening, defense officials said, a move that would meet a key condition of the Aug. 14 cease-fire that ended more than a month of fighting against Hezbollah guerrillas. [AP]

Military officials said the last soldier exited Lebanon just after 2:30 a.m. The officials spoke on condition of anonymity because they were not authorized to speak to the media.