Brazilian plane crashes, 155 aboard missing
SAO PAULO, Brazil -- The wreckage of the Boeing 737-800 airliner that disappeared over dense Amazon rainforest in Brazil with 155 people on board has been found, a Gol Airlines spokesman said Saturday.
The president of Brazil's airport authority, Jose Carlos Pereira, said the plane was found in the state of Mato Grosso, The Associated Press reported. There were no reports of survivors.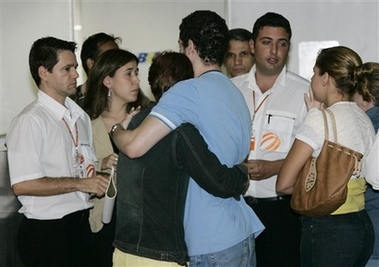 Relatives of passengers of a missing Gol jet, wait for information at the Antonio Jobim International Airport in Rio de Janeiro, Brazil, on Friday, Sept. 29, 2006. [AP]
Gol Flight 1907 last made contact at 5 p.m. Friday (4 p.m. ET), officials said.
The plane was heading from Manaus to Brasilia, and was set to land at 6:12 p.m. before going on to Rio de Janeiro and Sao Paolo, a spokesman for Brazilian civil aviation said.
The plane disappeared from radar screens while over military-controlled airspace, the civil aviation spokesman said.
Some 70 relatives and friends of the passengers were waiting for news at a Gol-owned warehouse at the Brasilia airport.
Reports of midair collision
Federal aviation officials on Saturday backed away from local media reports that the plane had collided with a smaller corporate jet, saying it was impossible to confirm, AP reported.
Those reports, on Brazilian television, said the planes collided over the state of Para, which is remote and largely made up of rainforest. The same area was also the site of the crash of Varig Flight 254 in September 1989. Thirteen people died in that crash; 42 survived.
On Friday, local media reported that farmers saw a large plane flying low in the area.
One man, Sergio Misaci, said his 58-year-old brother Lazaro was heading to Brasilia to celebrate their mother's 80th birthday, AP reported.
"I have all the hope in the world. We have to root for them and have faith in God," AP quoted Misaci as saying. He added that he had lived in Manaus for six years and was sure they wouldn't find the plane for at least 24 hours.
"The trees there are 50 and 60 meters high and you can't see anything," AP quoted him as saying.
Booming budget airline
The aircraft was new, with only 200 hours of flying time, and had just been received from the manufacturer on September 12, a Gol statement said.
Gol is the fastest-growing airline in South America and was launched in January 2001 as the first low-fare airline in Brazil.
Before Friday, Brazil's deadliest air accident involved a Vasp 747, which crashed in the northeastern city of Fortaleza in 1982, killing 137 people, AP reported.