RIO DE JANEIRO, Brazil - Air force planes searched the dense Amazon jungle Saturday for a jetliner that disappeared with at least 145 people aboard, Brazilian aviation authorities said.
The president of Brazil's airport authority, Jose Carlos Pereira, said five planes searched for Flight 1907 through the night in the thickly forested region. The Gol airlines Boeing 737 vanished Friday on its way from Manaus, a major river city in the heart of the Amazon rain forest, to Rio de Janeiro, 1,700 miles away.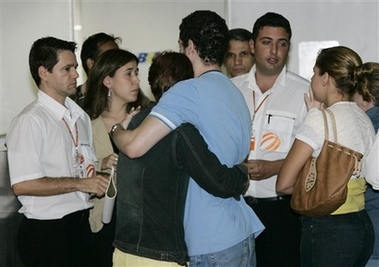 Relatives of passengers of a missing Gol jet, wait for information at the Antonio Jobim International Airport in Rio de Janeiro, Brazil, on Friday, Sept. 29, 2006. [AP]
Gol said late Friday that there were 155 people aboard the jet - 149 passengers and six crew members. The airline released a list early Saturday with 145 names of those aboard, but did not explain the discrepancy.
Before Friday, Brazil's deadliest air accident was in 1982, when a Vasp 747 crashed in the northeastern city of Fortaleza, killing 137 people.
Authorities initially said the Gol jet struck a Brazilian-made Legacy 600 executive jet near the Serra do Cachimbo region in Para state, and the smaller plane was able to land with damage to its wing and tail.
The authorities later said they were no longer certain that there had been a collision.
"It is impossible to confirm that there is a relation between the incident which caused the (Legacy) crew to perform an emergency landing in Cachimbo and the disappearance of the Gol airplane," federal aviation officials said in a statement early Saturday morning
The Estado news agency quoted Col. Ramon Bueno, head of regional flight protection in Sao Paulo, as saying a mid-air collision was "inexplicable."
"The two planes are very modern and have anti-collision systems, which sound an alarm to alert the plane to any obstacle," Buena told Estado.
Officials offered no further explanation of why they changed their assessment of the possible cause of the crash.
| | | |
| --- | --- | --- |
| 1 | 2 | |