Japan defense chief: China not threat
(Reuters)
Updated: 2006-09-30 07:17
TOKYO - Japanese Defense Minister Fumio Kyuma said on Friday that China's military was a concern rather than a threat, retracting earlier comments that had triggered a rebuttal from Beijing.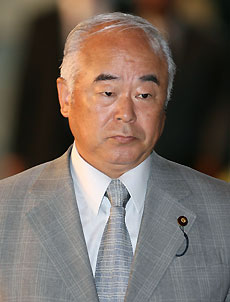 Japanese Defence Minister Fumio Kyuma arrives at newly-elected Japanese Prime Minister Shinzo Abe's official residence in Tokyo September 26, 2006. [Reuters]

Tokyo and Beijing are making efforts to resume meetings between their leaders, which had been halted during the tenure of former Prime Minister Junichiro Koizumi due to his annual visits to a Tokyo shrine seen by China and South Korea as a symbol of Japan's past militarism.

Kyuma, who was appointed on Tuesday by the new prime minister, Shinzo Abe, said that China did not pose a threat, as Beijing did not have an intent to attack Japan.

"I want to make clear that I am not spreading a view that China is a threat," Kyuma told a news conference, adding that he was correcting his remarks from Wednesday when he had referred to China's military as a threat.

On Thursday, Chinese foreign ministry spokesman Qin Gang denied that its military was posing a threat to Japan, adding: "This defense minister is newly appointed, so we hope he familiarizes himself with China's stance and policies."

But Kyuma said China needed to increase the transparency of its military capabilities, adding: "Otherwise, the Japanese people would have concerns."

Japanese politicians, including Foreign Minister Taro Aso, have said China's military was a threat, and a think tank linked to the Defense Agency has called it a "major destabilizing factor" in the region, but Tokyo's official line is that it does not pose a threat.

Chinese leaders had refused to meet Koizumi, protesting his visits to the Yasukuni Shrine, which honours some wartime leaders convicted as war criminal along with Japan's war dead.