Portugal fumes at Chavez campaign poster
(Reuters)
Updated: 2006-09-29 09:35
LISBON - Portugal demanded on Thursday an explanation from Venezuela for President Hugo Chavez using a picture of himself with Portuguese Prime Minister Jose Socrates in a campaign poster.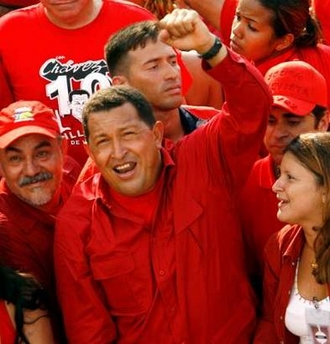 Venezuela's President Hugo Chavez (C) greets supporters from a bus during his re-election campaign rally in La Guaira, 30 km (19 miles) from Caracas, September 26, 2006. Chavez will run for re-election in the December polls. [Reuters]
The poster shows Chavez and Socrates smiling politely at each other in the VIP lounge at Lisbon airport.
"Breaking the blockade. Venezuela respects itself," reads the poster. There is a 800,000-strong Portuguese community in Venezuela and Chavez is campaigning ahead of December 3 presidential elections.
"We have asked the ambassador of Venezuela for an explanation and showed our dissatisfaction regarding the improper use of the image," Cabinet Minister Pedro Silva Pereira told reporters after the Portuguese cabinet's weekly meeting.
The picture was taken three months ago when Chavez briefly met Socrates at Lisbon's airport while on his way to Russia.
Other campaign posters include Chavez with Cuban President Fidel Castro and Iranian President Mahmoud Ahmadinejad.