TEHRAN, Iran - Iran's hard-line president on Thursday again rejected demands that Tehran suspend uranium enrichment, even as top Iranian and European diplomats sounded somewhat optimistic about making progress toward starting negotiations.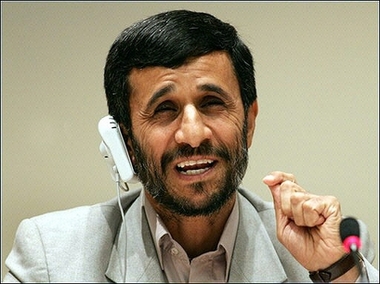 Iran's President Mahmoud Ahmadinejad, seen here on September 21, vowed that Iran would not yield on its nuclear program. "The Iranian nation will not bend one inch against any (international) force and pressure," he told supporters in a speech in the city of Karaj just outside Tehran broadcast on state television. [AFP]
Iranian and European envoys ended two days of talks in Berlin with no agreement on the enrichment issue but insisted they had "come to some positive conclusions" on ways to open broader talks on Iran's nuclear program.
Iranian President Mahmoud Ahmadinejad stood firm on his insistence that Iran has a right to pursue its atomic program and showed no sign of compromise over the U.N. Security Council's demand that his government suspend enrichment.
The statements from the negotiators and the Iranian president continue a pattern of past months, in which Ahmadinejad publicly states a hard-line position of no compromise, often in front of large crowds, even as Iran's negotiators try to reach deals behind the scenes.
The Iranians appear to be gambling that even the hint of progress will blunt any push for U.N. sanctions.
Ahmadinejad said the United States and its European allies want Iran to suspend enrichment as a first step toward forcing a permanent halt in the nuclear program, because they are opposed to Tehran's progress.
The U.S. and others fear Iran's goal for developing enrichment technology is to produce material for atomic bombs, while oil-rich Iran says it needs enrichment to provide fuel for nuclear reactors that will generate electricity for this developing nation.
Ahmadinejad said Iran would not give in.
"They asked for a one-day halt. We said we won't do it," he told thousands gathered in Karaj, west of Tehran.
Iranian state TV quoted Ahmadinejad on Wednesday as saying Western negotiators were trying to persuade Iran to halt enrichment for just a day, to create a face-saving way for opening negotiations. President Bush has refused to enter into talks until Tehran halts enrichment.
"Those who have filled their arsenal with nuclear weapons and conduct new tests every day want, on political pretexts, to deny the Iranian nation its full definite right of using nuclear energy for peaceful purposes," Ahmadinejad said. "The Iranian nation won't give into one iota of coercion."
The U.S. House sought to step up pressure Thursday by adopting legislation that would impose U.S. sanctions on any entity found to help Iran develop atomic weapons. The bill has yet to go before the Senate, and critics questioned the need for such action when the U.S. is pushing for a multinational approach.
Iran ignored a U.N. Security Council deadline of Aug. 31 to halt enrichment or face the possibility of economic sanctions.
Despite that threat, Russia and China oppose any immediate move to impose punitive measures, and as permanent council members can veto its actions. Both nations, which have trade ties with Iran, argue that diplomacy hasn't been exhausted.
Six countries ¡ª the United States, China, Russia, France, Britain and Germany ¡ª have offered a package of incentives in return for Iran suspending enrichment and returning to full-scale negotiations aimed at putting curbs on the nuclear program that would ease suspicions.
Ahmadinejad said the Europeans asked for a three-month suspension of enrichment, which he said would mean "a huge loss" for the Iranian program.
"Who will pay for the losses?" he asked. "Then they reached a point that they asked for a one-day halt. We said we won't do it."
In Berlin, Javier Solana, the European Union foreign policy chief, refused to give details of the third session of talks but said he would confer by telephone with the Iranians next week. "We want to maintain the level of contact that we have had," Solana said.
Iran's chief nuclear negotiator, Ali Larijani, said the two sides discussed ways that full-scale talks could proceed, adding that Tehran hoped "to embark on the main negotiations as soon as possible."