CASTEL GANDOLFO, Italy - Pope Benedict XVI told Muslim diplomats Monday that "our future" depends on good relations between followers of both faiths as he sought to put to rest anger over his recent remarks about Islam and violence.
The pontiff also quoted from his predecessor, John Paul II, who had close relations with the Muslim world, calling for "reciprocity in all fields," including religious freedom. Benedict spoke in French to a roomful of diplomats from 21 countries and the Arab League in his summer residence in Castel Gandolfo near Rome.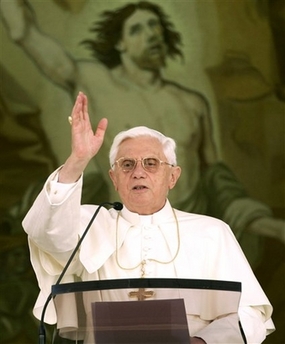 Pope Benedict XVI gives his blessing during his Sunday Angelus prayer at his summer residence of Castel Gandolfo, outside Rome, Sunday, Sept. 24, 2006. The pontiff on Sunday praised an Italian nun for pardoning her killers as she lay dying from an attack in Somalia that may have been linked to worldwide Muslim anger over his recent remarks about Islam and violence. [AP]
After his five-minute speech, in a salon in the papal palace in the Alban Hills, Benedict, greeted each envoy one by one. He clasped their hands warmly and chatted for a few moments with each of the diplomats.
"The circumstances which have given risen to our gathering are well known," Benedict said, referring to his remarks on Islam in a Sept. 12 speech at Regensburg, Germany. He did not dwell on the contested remarks, which set off protests around the Muslim world.
Iraq's ambassador to the Holy See said Benedict's address to the envoys should bring an end to the anger over the pontiff's remarks on Islam and violence.
"The Holy Father stated his profound respect for Islam. This is what we were expecting," said Iraqi envoy Albert Edward Ismail Yelda as he left the half-hour meeting. "It is now time to put what happened behind and build bridges."
When the protests started flaring, Benedict offered deep regrets for offense felt by Muslims and insisted his remarks did not reflect his own opinion and were misunderstood. He stopped short of a full apology that some Muslim leaders demanded.
Speaking in Germany, Benedict quoted the words of a Byzantine emperor who characterized some of the teachings of the Prophet Muhammad as "evil and inhuman," particularly "his command to spread by the sword the faith."
Addressing the diplomats, he did say that Christians and Muslims must work together to "guard against all forms of intolerance and to oppose all manifestations of violence."
He said he arranged the meeting to "strengthen the bonds of friendship" between both sides, but he did not offer any analysis of the controversial passage, which came in a speech exploring faith and reason.
Benedict said that dialogue between Christians and Muslims "cannot be reduced to an optional extra. It is, in fact, a vital necessity on which in large measure our future depends," he said, quoting to a speech in gave to Muslims in Germany in 2005.
Benedict also cited John Paul II as saying, "Respect and dialogue require reciprocity in all spheres," particularly religious freedom. This is a major issue for the Vatican in Saudi Arabia and several other countries where non-Muslims cannot worship openly.
Saudi Arabia does not have diplomatic relations with the Holy See.
Among predominantly Muslim nations with diplomatic relations to the Vatican, only Sudan did not participate in the meeting.
Among those attending was a diplomat from Indonesia, where Christian-Muslim tensions were further heightened last week by the execution of three Catholic militants. Benedict last month had appealed for the men's lives to be spared.
Turkey also participated. Benedict has said he hopes to go in November to that predominantly Muslim but officially secular country, whose officials were among the first to vigorously protest the Regensburg remarks.
Last week, the Holy See's ambassadors stationed in Muslim countries met with officials to assure them that the pope respects Islam and to urge a complete reading of the speech, which was an exploration of the relationship between faith and reason.
The Vatican and much of the Muslim world share some important goals for each side, including the battle against legalized abortion. Benedict also was among the first to urge Israel to use restraint and turn to dialogue in its battle in Lebanon against Hezbollah guerrillas over the summer.