TOKYO - A day before he becomes Japan's youngest prime minister, Shinzo Abe has given a top job to his mentor Hidenao Nakagawa, a conservative who said he will try to repair ties with China.
Nakagawa, 62, who resigned another top post in 2000 in a sex scandal, was appointed secretary general of the ruling Liberal Democratic Party (LDP), the highest post after LDP president, which is held by the 52-year-old Abe.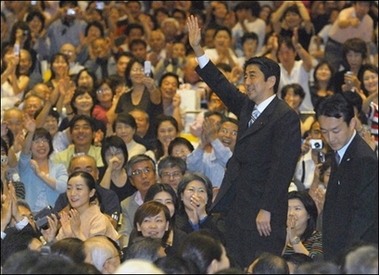 A day before taking office as Japan's youngest prime minister, Shinzo Abe named his mentor Hidenao Nakagawa to his party's number two post, news reports said. [AFP]
"Yes, I just got a call," Nakagawa told reporters when asked if Abe had offered him the position, which carries wide influence in setting policy.
Nakagawa, Abe's senior in their party faction, played a key role in Abe's overwhelming win in the party election last week by bridging the gap between young politicians backing Abe and the party's veteran heavyweights.
He has been an ideological mentor to Abe since he entered the party, crafting many of his ideas on economic policy.
Outgoing Prime Minister Junichiro Koizumi also served as a mentor to Abe by tapping him for key posts despite his young age.
Nakagawa quit in 2000 as the chief cabinet secretary to then prime minister Yoshiro Mori after a tabloid reported lurid details of an extramarital affair and alleged Nakagawa had contacts with an extreme right-wing group.
But despite his conservative views, Nakagawa also has personal ties to Chinese officials from his travels to the neighboring country.
Nakagawa met on Sunday with visiting Chinese vice foreign minister Dai Bingguo and discussed a resumption of summits between Japan and China.
Top-level dialogue has been suspended due to Koizumi's visits to a war shrine associated with Tokyo's militarist past.
"Sentiment has begun to get more positive. I think Japan-China relations will improve. It is important for both countries to make an effort to realize a summit by the end of this year," Nakagawa said Sunday.
Abe has strongly supported Koizumi's visits to the Yasukuni shrine, which honors war dead and war criminals, but has also said he wants to improve relations with China, Japan's top trading partner.
An economics specialist, Nakagawa is also closely associated with the free-market reforms achieved under Koizumi.
Abe also named former health and welfare minister Yuya Niwa as chairman of the party's decision-making General Council and farm minister Shoichi Nakagawa as chairman of the influential Policy Research Council.
"Since a young president took office, both the young and old should back the new president in union," Niwa told reporters.
Shoichi Nakagawa, who is not related to Hidenao Nakagawa, was Japan's chief negotiator in stalled global trade talks and used to head the powerful Ministry of Economy, Trade and Industry.
Shoichi Nakagawa is known for his outspoken conservative views including a hard line on China in a dispute over oil and gas fields in the East China Sea.
Abe held a closed-door meeting with new party executives Monday. The party was to endorse the appointments at a special meeting later in the day.
Abe on Tuesday will replace the veteran Koizumi as Japan's youngest prime minister and the nation's first leader born after World War II.
Conservative Foreign Minister Taro Aso, a runner-up in the party election last week, was likely to remain in the post when Abe announces his new cabinet on Tuesday, the Sankei Shimbun said.