PARIS - A French intelligence memo suggesting Al-Qaeda leader Osama bin Laden might have died of typhoid has been met with scepticism around the world, including the highest levels of the French government.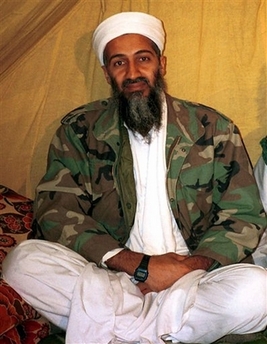 This is an undated photo of Osama bin Laden, in Afghanistan. President Jacques Chirac said Saturday Sept. 23, 2006 that information contained in a leaked intelligence document raising the possibility that Osama bin Laden may have died of typhoid in Pakistan last month is 'in no way whatsoever confirmed.' [AP]

France, the United States, Pakistan and Saudi Arabia all said they had no evidence to support the assertion in the memo, which was published Saturday in the French regional newspaper l'Est Republicain and Sunday in Le Parisien.

"To my knowledge, Osama bin Laden is not dead. It is quite simple," French Foreign Minister Philippe Douste-Blazy told French television on Sunday.

French President Jacques Chirac on Saturday confirmed the memo was genuine, stating he was "surprised" it had been made public and ordering an investigation into its leak.

But he stressed that the information it gave was "in no way confirmed."

However, persistent reports that bin Laden was struck with illness fueled speculation about his fate.

The confidential document, drafted by the French foreign intelligence service DGSE and dated September 21, stated that according to a normally reliable source Saudi Arabia's intelligence services were "convinced that Osama bin Laden is dead."

It said the 49-year-old Saudi Islamic militant, who has been held responsible for the September 11, 2001 attacks on the United States, succumbed to typhoid fever in Pakistan between August 23 and September 4.

The Saudis were seeking evidence of bin Laden's death, notably by looking for his remains, the memo said.

In response, the Saudi embassy in Washington issued a two-sentence statement saying "the Kingdom of Saudi Arabia has no evidence to support recent media reports that Osama bin Laden is dead."

"Information that has been reported otherwise is purely speculative and cannot be independently verified," the statement stressed.

It did not, however, address the French intelligence memo nor say whether its evaluation of what Saudi intelligence believed was inaccurate.

US Secretary of State Condoleezza Rice simply said: "No comment, and no knowledge."

Several US intelligence officials told US media they had noticed no unusual Internet or communications "chatter" which would likely follow such a momentous development.

Pakistan's interior minister, Aftab Sherpao, told AFP in Islamabad: "No, we do not have any such information with us."

Security officials hunting Al-Qaeda in Pakistan rejected the report. A senior official told AFP on condition of anonymity that "no such information has been shared" by the Saudis and that it was "inconceivable that an event of this nature would remain unnoticed in Pakistan".

Bin Laden has several times been rumoured to have died in the past, only to appear later in audio or video recordings.

| | | |
| --- | --- | --- |
| 1 | 2 | |