SINGAPORE - Finance ministers on Monday backed a controversial new World Bank strategy for tackling corruption in developing countries but insisted on overseeing how it is implemented, officials said.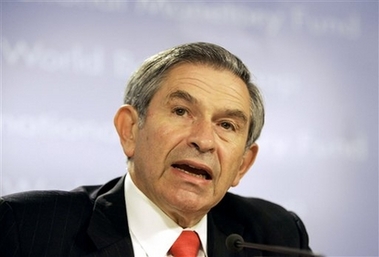 World Bank President Paul Wolfowitz speaks during a joint news conference at the annual meeting of the World Bank-IMF Monday, Sept. 18, 2006 in Singapore. The World Bank's policy-planning panel on Monday said that its strategy to fight corruption needs oversight of its executive board, in a move to ensure that decisions to withhold aid are broad based. [AP]
World Bank President Paul Wolfowitz, backed by the United States, has been determined to put anti-corruption at the heart of the bank's work, but big European countries have voiced concern that his zeal could cause lending to poor countries to slow.
After lengthy haggling behind the scenes, ministers meeting in Singapore approved a revised plan and said their representatives on the bank's board would oversee its implementation.
The agreement follows months of tension between Wolfowitz and member governments over how best to position the bank to tackle corruption -- without imposing itself as judge and jury.
An earlier draft would have put more power in the hands of the bank's managers, who would have sent decisions to the board to be rubber-stamped.
Hilary Benn, Britain's development secretary, said he said he was very pleased with the outcome. "It's clear that the board oversees its development," he said of the strategy.
Benn told reporters that he yielded to no one in his opposition to corruption, but it was important to ensure a continuing flow of aid to alleviate poverty.
"None of us should walk away from assisting poor people, even where the situations are difficult," Benn earlier told the bank's main policy-steering committee.
The issue of graft is a lightning rod for broader dissatisfaction with Wolfowitz's management of the bank.
Last week Britain renewed a threat to withhold some money earmarked for World Bank reforms to press the body to change the conditions it attaches to its loans.
Wolfowitz's critics share his repugnance of corruption but say they were concerned he was suspending loans to countries including Kenya, Bangladesh, India and Cameroon in an arbitrary manner.
Speaking to the committee, Wolfowitz countered that good governance not only ensured that funds were spent as intended but were vital to accelerating economic growth and reducing poverty.
The bank had an obligation to see that its funds were used for the purposes intended, he said.
"Those purposes are to provide good schools for poor children, to help poor mothers get access to good health care and to give poor workers the chance for a good job -- not to line the pockets and bank accounts of the corrupt and powerful," he said.
But India's finance minister, Palaniappan Chidambaram, told ministers it was wrong to hold aid hostage to the fight against corruption. "Development cannot wait for improved governance and a corruption-free world. Both must go hand in hand," he said.
Max Lawson, a policy adviser to the development agency Oxfam, said he was pleased the bank's board would oversee the corruption fight and looked forward to the strategy's being implemented in a way that puts poor people first.
"Corruption is too important to be politicized. It must be treated in a transparent way so that countries know where they stand and there is proper oversight," Lawson said.