Yoshinoya fans celebrate beef bowl return after US beef ban
(AFP)
Updated: 2006-09-18 14:34
TOKYO - Japanese diners have celebrated the eagerly waited return of gyudon, a beef bowl dish by the Yoshinoya restaurant chain, after Japan lifted a ban on US beef imports.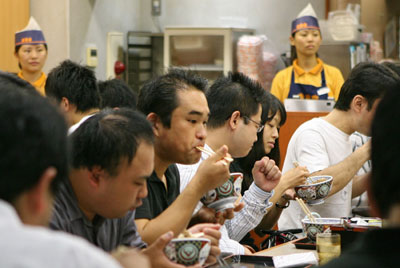 People eat at a Yoshinoya restaurant in Tokyo September 18, 2006. Japanese fast-food chain Yoshinoya D&C Co. Ltd., the firm most battered by Japan's former ban on U.S. beef, is taking a first step towards resuming sales of its famed beef bowls by serving them for one day this month. [Reuters]
The fast-food chain took on a symbolic status during Japan's ban on US beef when it refused to use alternatives from Australia or other beef producers arguing the taste of Yoshinoya beef bowls can only be created with US beef.
Japan, once the top market for US beef, had halted US beef imports twice since December 2003 due to mad cow health scares in the United States.
Yoshinoya, which operates 1,010 stores in Japan, resumed serving the steamed rice topped with thinly sliced beef and onions cooked in soy sauce, sugar and other secret ingredients to the delight of customers.
Security guards were also out in force to keep order as the first helpings were dished out for the first time since February 11, 2004, when Yoshinoya ran out of US beef supplies.
"There is no greater joy for me than to see the resumption of gyudon sales," said Yoshinoya President Shuji Abe. "I want to do my utmost to gain consumer confidence."
Yoshinoya has long attracted the recession-weary Japanese public, particularly students and working men on a budget, with the price of a gyudon bowl going for an affordable 280 yen (2.60 dollars).