The presidents of Iran and Venezuela, leading US critics, pledged Saturday to support one another in disputes with Washington, with the Iranian calling Hugo Chavez "a brother and trench mate."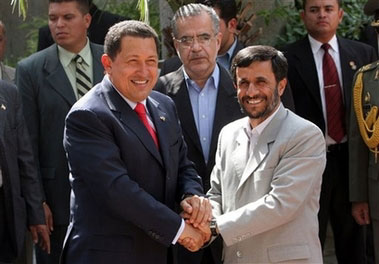 Iranian President Mahmoud Ahmadinejad (right) shakes hands with Venezuela's President Hugo Chavez, before an official welcoming ceremony for Chavez in Tehran, Iran , Saturday, July 29, 2006.[AP Photo]
As Chavez arrived for a two-day visit. Iran faced renewed international criticism for its nuclear program and for backing Hezbollah guerrillas in its war with Israel.
The five permanent members of the UN Security Council on Friday reached a deal on a resolution that would give Iran until the end of August to suspend uranium enrichment or face the threat of economic and diplomatic sanctions. Iranian state radio said Saturday the government would reject the proposed resolution.
Chavez pledged that his country would "stay by Iran at any time and under any condition."
Iran's president, Mahmoud Ahmedinejad, said he saw in the Venezuelan president a kindred spirit. "I feel I have met a brother and trench mate after meeting Chavez," the state-run Iranian television quoted Ahmedinejad.
Chavez, who peppers his speeches with mentions of assassination plots and purported US efforts to oust him, said he admired the Iranian president for "his wisdom and strength."
He invited Iranian oil companies to invest in Venezuela. Venezuelan state TV also reported that the countries are considering having Iran participate in a natural gas project off the Venezuelan coast. The two nations are members of the Organization of Petroleum Exporting Countries, Iran is the world's No. 2 oil exporter and Venezuela No. 5.
"We are with you and with Iran forever. As long as we remain united we will be able to defeat (US) imperialism, but if we are divided they will push us aside," Chavez said.
Since taking office in 1999, Chavez has emerged as one of Latin America's most outspoken critics of US foreign policy. He takes his message against what he calls President Bush's "imperialist" government everywhere he goes.
During his trip, Chavez is to meet Iran's Supreme Leader Ayatollah Ali Khamenei, Iranian state television said.
"We do not have any limitation in cooperation," Ahmedinejad was quoted as saying. "Iran and Venezuela are next to each other and supporters of each other. Chavez is a source of a progressive and revolutionary current in South America and his stance in restricting imperialism is tangible."
The Venezuelan leader has been on a trip that included a visit to Belarus, where he met with President Alexander Lukashenko, who is dubbed "Europe's last dictator" by Washington and shares Chavez's strong anti-US views.
Earlier this week he secured an arms agreement with Russia that prompted US criticism.
Chavez said in Moscow on Thursday that Russia had helped his country break a US-imposed "blockade" by agreeing to sell fighter planes and helicopters worth billions of dollars to Venezuela.
Chavez is also hoping to set up Kalashnikov weapons plants and ammunition plants in Venezuela under Russian license.
Bilateral trade last year between Iran and Venezuela amounted to US$1 billion. Iranian investment in Venezuela includes a production line for tractors and several housing projects.
During his visit, Chavez was to inaugurate the new Venezuelan embassy in Tehran and meet Iranian business leaders. He was also to tour Iran-Khodro, Iran's giant public sector automobile manufacturer. The leaders and top officials were expected to sign memorandums of understanding in various fields.